In 1920, thirteen individuals and experts of the Section for Conservation of Nature at the Museum Society of Ljubljana presented the so called Spomenica (memorandum), a call for systemic environmental protection. Spomenica was presented in four main points to the Slovenian provincial government of the then Kingdom of Serbs, Croats and Slovenes.
At its anniversary, the Ministry of Environment and Spatial Planning published the four proposals of the Memorandum and provided a historic and current context for each of them:
Request of Spomenica: "Alpine, mid-mountain (forest) and wetland protection parks should be established."
About 100 years ago: The Alpine Conservation Park was established in the Triglav Lakes Valley in 1924. Before that, part of the old Kočevje forests on the Auersperg estate were excluded from economic exploitation in 1888.
Today: At this point, all requirements have been met and even exceeded. Triglav National Park was established for the protection of that part of the Alps. The valley of the Triglav Lakes has been protected continuously from 1961 until today as part of the Triglav National Park, and especially as a natural monument of the Triglav Lakes Valley. As such it stands as a symbol of Slovenian environmental protection.
Today, the Slovenian natural environment is protected by one national park, three regional parks, 49 natural landscape parks, 56 nature reserves and 1,164 natural monuments, which together comprise 13 percent of the Slovenian territory.
Since 2011, Slovenia's natural parks have been integrated into the Slovenian Community of Parks, which is governed by fifteen protected area managers related by a common interest in nature conservation and preservation of the balance between effective environmental protection and cultural heritage through various activities. The Slovenian Community of Parks consists of: Triglav National Park, Kozjansko Regional Park, Notranjska Regional Park, Skocjan Caves Regional Park, Debeli rtic Landscape Park, Goričko Landscape Park, Kolpa Landscape Park, Ljubljansko Barje Landscape Park, Logarska Valley Landscape Park, Pivka Intermittent Lakes Landscape Park , Radensko Polje Landscape Park, Sečovlje Saltpans Landscape Park, Strunjan Landscape Park, Tivoli Landscape Park, Rožnik and Šišenski hrib, Skocjanski zatok Nature Reserve and Ormož Lagoon Nature Reserve.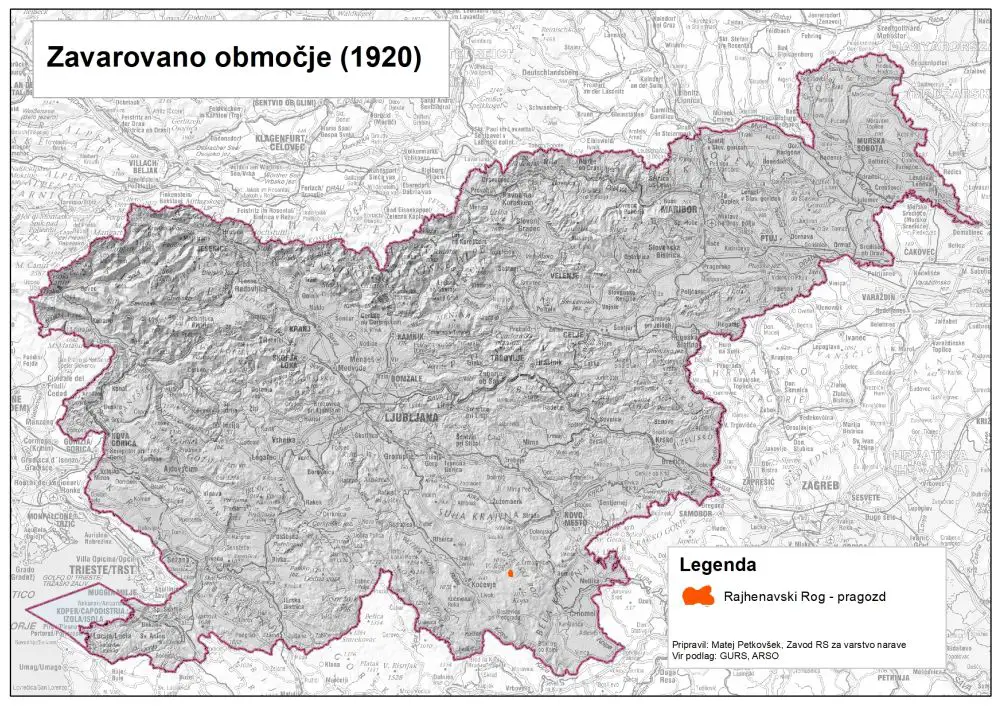 Request of Spomenica: "The law should prohibit killing and destroying of rare animals and plants and of those typical of our environment or of scientific interest."
About 100 years ago: The trend for the protection of species in Slovenia began with the protection of Planika (Edelweiss) in 1896, and in 1910 the Law on Protection of Useful Birds was adopted. By the time when Spomenica was introduced, some species were already protected by the Fisheries Act and the Hunting Act. An explicit request for the protection of 68 species was made in Spomenica. Among them, there were 13 species of plants, 22 species of birds, all species of reptiles (22 species) and toads (two species) and four insect species: the Alpine longhorn beetle and Carabus gigas (orjaški krešič), Mountain Apollo butterfly and Carniolan bee. Protection of the bear, reindeer, Alpine ibex, chamois and Alpine marmot was also required.
Today: About 19,000 animal and 4,000 plant species live in Slovenia, of which more than 2,000 species are listed as endangered. A government decree protects almost all plant and animal species cited by Spomenica and many others that are endangered. Among others, almost all species of amphibians, reptiles, birds, all bats, all large carnivores, cave bugs, all kinds of beetles and butterflies above the tree line are protected. More than 200 animal and more than 20 plant species are protected within the Natura 2000 network.
Request of Spomenica: "Underground caves with interesting fauna and flora should be placed under supervision."
100 years ago: At the beginning of the previous century, the exploitation of cave fauna for profit was common. Spomenica points out that "various foreigners came and systematically terminated cave fauna". It proposes that caves be owned by the state and that entry into caves be controlled.
Today: All underground caves have been owned by the state since 2004. With regard to the rules of entry, they are divided into open caves with free entry, open caves with controlled entry and closed caves, which, due to their vulnerability, are only exceptionally accessible for scientific purposes with permission and under professional supervision.
All types of cave bugs are protected, and the law prohibits hunting, killing and removing from caves any animals that live or occasionally stay in them. Nonetheless, examples of poaching and trafficking of cave animals still occur.
Waste and sewage pollution of the cave world is slowly improving due to mandatory treatment of waste water and the compliance with the prescribed standards of agricultural fertilization.
Request of Spomenica: "Awareness should be raised among the general public for the conservation of nature in general"
Environmental protection is communicated by the Ministry of the Environment and Spatial Planning, the Institute of the Republic of Slovenia for Nature Conservation and the managers of protected areas. A range of activities are carried out by non-governmental organizations from different nature protection fields – be it those who deal with groups of species or those that deal with areas. Important contributors to the dissemination of knowledge are also the media and their reports.
Although pressures on the environment today are higher than ever and biodiversity is on decline globally, and in Slovenia, the country ranks among the top in the world according to its nature preservation endeavours.
In an opinion poll on Natura 2000, conducted by Parsifal in Slovenia in 2019, more than 80% of Slovenian respondents are prepared to avoid visiting a certain area, adapt the use of fertilizers, remove invasive alien species or not cut in a part of the forest, or cut certain trees, in order to protect nature (Parsifal, 2019).
That conservation of nature is one of the fundamental national values, as also proven by the high ranking of Slovenia in various international lists. Yale University ranked Slovenia as the fifth greenest country in the world, and National Geographic as the greenest country in the world. Slovenia also ranks fourth in the Legatum Prosperity Index in the environmental category.
Today, 56.9% of the sea and land of the Republic of Slovenia is under nature protection measures; in the European Union Slovenia ranks first by the share of Natura 2000 (network of nature protections areas in the EU) protected areas in the country, which amounts to over 37%.