SURS (Statistični urad Republike Slovenije - the Statistical Office of the Republic of Slovenia) runs one of the best government websites in the country, producing a regular stream of interesting and informative reports drawn from the numbers it receives, presented in clear, easy to understand formats, and with the raw data just a few clicks away if you want to dig deeper.
Screenshot of the mean age data around Ljubljana. Source: SURS
Mean age in detail, with a focus on Logatec. Source: SURS
One tool that's a lot of fun to play around with, and a fresh way to explore the country, is STAGE II – "an interactive cartographic application for displaying statistical data about Slovenia. It provides interactive web map viewer as well as provides powerful analytical tools for spatial querying."
Poverty in broad terms Source: SURS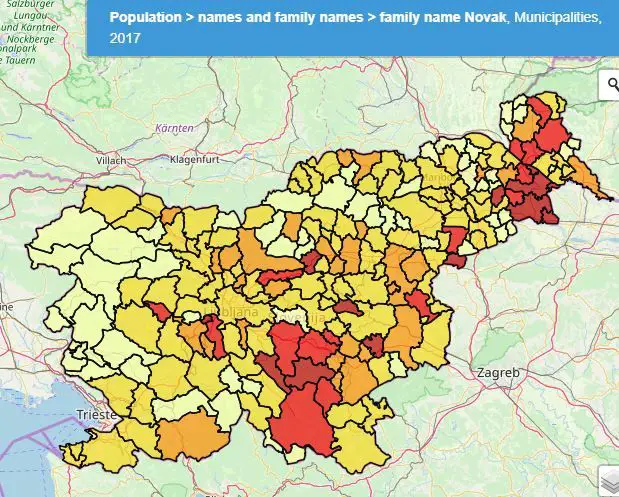 Where the Novaks are. Source: SURS
With this you can check the data is 15 broad headings: population, the labour market, earnings, poverty, education, health, crime, enterprises, industry, dwellings, construction, environment, agriculture, R&D, and national accounts. Within each of these you can dig deeper in a series of nested categories, in some cases going into incredible detail. For example, the most densely populated square kilometre in Slovenia is located in the Štepanjsko naselje in Ljubljana with 11,217 residents.
Population density by 1km2, Source: SURS
If you want to find out where the most statins are prescribed or which place sees the most binge drinking, then you can, along with where the most old homes are, where the highest mean age is, where there are more men than women, and so on. Available in Slovene and English, you can explore Slovenia in dozens of ways here.