In 1786 Emperor Joseph II ordered that the Discalced Augustinians monastery in Ajdovščina, Ljubljana, be rearranged into the first civilian hospital in Slovenian lands.
Among the reasons why Ajdovščina monastery was chosen over the Franciscan monastery at Vodnik square, another venue considered, were given its more appropriate interior design, beautiful garden and fresh air from Kamnik Mountains.
On the day of the opening, the hospital had three departments (internist, surgical and dermatological) and only 12 beds; three for women and nine for men. Two years later a psychiatric ward or – in the language of the day, "mad house" – was added. The hospital was managed by Brothers of Mercy from Trieste.
During the Illyrian Provinces and French occupation of Ljubljana, the French were in need of space for their wounded soldiers, and demanded the civilian hospital for this. The Brothers of Mercy refused to comply, so the French dismissed their order, seized the hospital, and handed its management to the city government. In 1849 the hospital was taken over by the provincial government of Carniola.
Due to lack of space a new psychiatric hospital was built in Polje, Ljubljana in 1881, and in 1889 children were also moved to a new paediatric hospital at Streliška street. In 1888 the Carniolan government decided to build an entirely new hospital on Zaloška street, Ljubljana. Construction work started in 1893 and was expected to be finished in 1896.
However, the damage caused by Ljubljana earthquake in 1995 forced the authorities to move the patients in old Ajdovščina hospital into tents in the hospital garden, and complete the work on the new hospital in the same year.
Ajdovščina monastery was so heavily damaged by the earthquake that the entire building had to be pulled down. In its place two secessionist buildings were erected at the addresses of Slovenska street 44 and 46: the Sloveniasport building (1906), designed by Ciril Metod Coch, and Hribar house (1905), designed by Max Fabiani.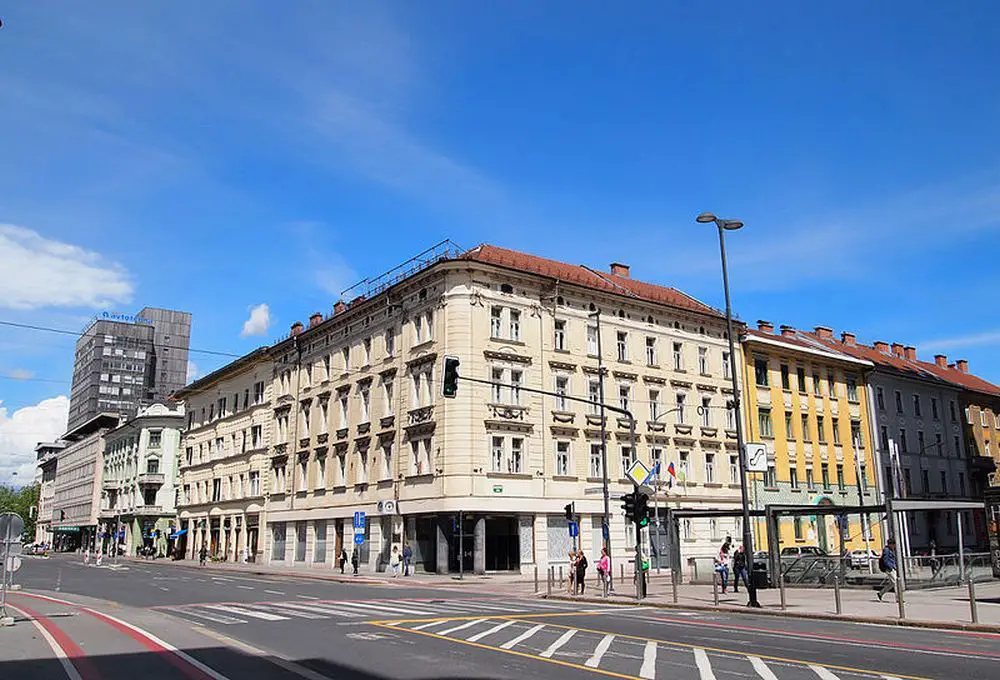 Sloveniasport building with Hribar house to its left, 2014 Photo: Tia Monto, Wikimedia Commons
In memory of the hospital a memorial plate was built into the façade of Sloveniasport.