December 27,2017
Whether you are Slovene, an expat living in Slovenia or a tourist who simply decided to take a break in this beautiful South European country, you will probably visit the capital, Ljubljana. When in town you are likely to come across or at least hear about an area known as Metelkova Mesto, or simply "Meta", as some of the locals refer to it.
 This autonomous social centre is considered to be the leading focus of underground music and art in the region. It's only a short walk from the city centre, near the main train station, and is a popular meeting point for locals as well as visitors. Located on the site of abandoned military barracks, Metelkova Mesto was formally established in 1993.
One of the rooms in Celica. Image: Facebook
It consists of several building's, one of which is the popular and lively Hostel Celica (celica meaning prison cell in English), famous for giving visitors a chance to spend the night in what used to be a former military prison. Hostel Celica is the world's first certified sustainability-oriented hostel, and has won the prestigious Travelife Gold Award for its promotion of sustainable operations in the field of tourism. In addition to the rooms, there hostel also hosts activities, barbecues and other events that help make it so lively and colourful.
Gala Hala. Facebook
Opposite Hostel Celica there is Gala Hala, a small concert hall in the heart of Metelkova, important for giving visitors a chance to hear some of their favourite bands particularly those from alternative music scene and working within the genres of punk rock and heavy metal. Gala Hala also holds regular stand-up comedy and improv nights in English, where audiences can enjoy international and local comedians, with more details on the club's events page.
Flickr: Shadowgate  (CC BY 2.0)
Metelkova Mesto courtyard, probably one of its best and most recognizable features, gives local artists a chance to express their creativity, whether it be building rather unusual sculptures and statues, or painting graffiti on the walls of the surrounding buildings. Here visitors can admire the interesting designs and hang out long into the night, getting drinks from the hostel or the other establishments in the quarter.
Klub Tiffany Facebook
Metelkova Mesto is also the home to Slovenia's only Anarchy Library as well as two of Slovenia's few LGBTQ clubs, Klub Monokel and Klub Tiffany. It also organizes regular disability workshops for disabled people. Overall more than 1,500 alternative events take place at Metelkova Mesto each year, with numbers still growing, and the best way to find out about them is on Facebook or just by turning up and getting involved, with the schedule of activities shown here.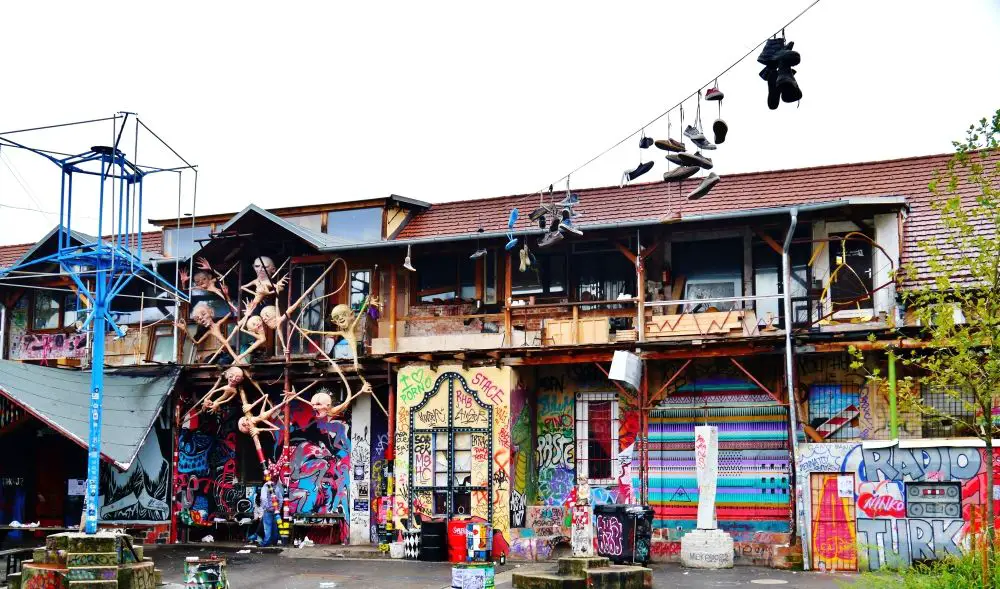 Wikimedia
However, although Metelkova has managed to stay open all these years it is currently under threat. Ljubljana City Government recently decided to sell Hostel Celica at auction, which threatens the area as a whole. This is no surprise, since everything taking place here happens in illegally occupied buildings, owned by the public, which is one of the reasons why many of Ljubljana's residents, particularly those who do not see the benefits of this independent artistic and social community, want to see the land sold, buildings demolished, and area redeveloped.
Tatovi podob / Image Snatchers on stage at Klub Gromka (see the group's Facebook for shows)
Among other reasons for demolishing Metelkova, many claim that the place is ugly, mainly because of all the graffiti and sculptures, and thus shines a bad light on the rest of Ljubljana. On the other side there are those wanting Metelkova to be left exactly as it is, mostly from the underground scene, artists and others who recognize its cultural importance, as well as unique works that were and are created there.
Demolishing Metelkova Mesto, a place famous as one the largest, and arguably most successful, urban squats in Europe, would not only lead to the loss of a valuable safe space for Ljubljana's already vulnerable LGBTQ and disabled people communities, but also lose a place of great cultural significance, one of many responsible for making Ljubljana such an attractive city to live in or visit.
If there's a place, issue or anything else you'd like to write about, please contact us at

This email address is being protected from spambots. You need JavaScript enabled to view it.