December 17, 2018
In 1931 the fourth tram line started operating between the train station and Vič in Ljubljana. Part of the route went through Šelenburgova street (today's Slovenska), which had as a result moved Ljubljana's main promenade to Aleksandrova street (today's Cankarjeva), between the post office and Tivoli Park.
At the beginning of the 20th century Ljubljana's promenade began on today's Čopova street then went past the post office on Slovenska, through Congress square (Kongresni trg) and back to the Town Square (Mestni trg). With the change of venue to Cankarjeva after the new tram line, it got an extension to Tivoli Park and even further for meetings and assignations that would prefer some privacy.
The promenade was a place to meet and debate, but also a place to show off. Hats, gloves and walking sticks were a mandatory part of a gentlemen's outfit. It started after 4pm during the week and after 11am on Sundays, when it was especially ceremonial and classy, with a brass band playing and the best fashions of Ljubljana on display.
The promenade disappeared completely at the beginning of the 1960s, when the streets became jammed with traffic rather than walkers, and the citizens of Ljubljana begun spending their days off outside the city in the coastal towns of Piran and Portorož.
Slovenska street 1931 – old Slon Hotel, post office and a now gone building in front of today's Nama department store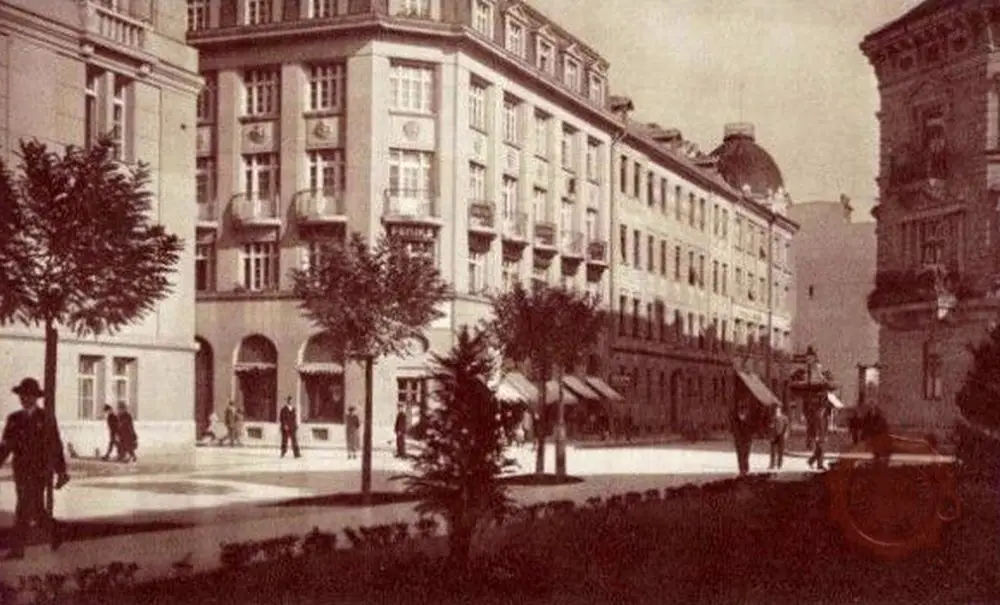 Aleksander street (Cankarjeva street today) in 1930s in early afternoon hours