I went to SILA's annual bazaar for the first time last year and realised how foolish I'd been in not going before, and made plans to ensure not only that I'd be there this year, but arrive earlier and hungrier. It really is an event to look forward to, one in which the international community in Ljubljana takes centre stage to celebrate its diversity and start the festive season with a focus on charity.
Photo: Neža Loštrek
Photo: Neža Loštrek
As reported in a previous story, the Slovenian International Ladies Association, which this year is celebrating its 25th anniversary, was originally established as a social group for the wives of diplomats and foreign businessmen stationed in Slovenia. However, as times have changed so has the group, which is now open not only to any foreign woman living in Slovenia, but also Slovenes. SILA organises a full and varied programme of social, educational, cultural and sporting events for its members, but the focus of the year is its annual bazaar, which takes place this Sunday, December 2, from 10:00 to 16:00 in the ballroom of the Grand Hotel Union.
Related: Why you should consider joining SILA if you're a woman in Ljubljana or nearby
Photo: Neža Loštrek
Photo: Neža Loštrek
The bazaar is a lively, colourful and welcoming event, and this year will have 38 countries from all six continents taking part. Their contributions include a cultural programme, from 12:30 to 14:00, which will see music and dance on the stage – with Brazilian music and a children's parade being promised – as well as 18 tables selling international food and other products, three more than last year. It's these that are likely to be of special interest to readers of TSN, as here you'll be able to buy food that's often prepared by the related embassy chef, and thus of top quality and authenticity, at very reasonable prices. Last year I ate Indian food twice, and this year, as noted above, I'll be going earlier and hungrier, and also plan on taking stuff away for the next day.
There's Indian food.... Photo: Neža Loštrek
...Indonesian food... Photo: Neža Loštrek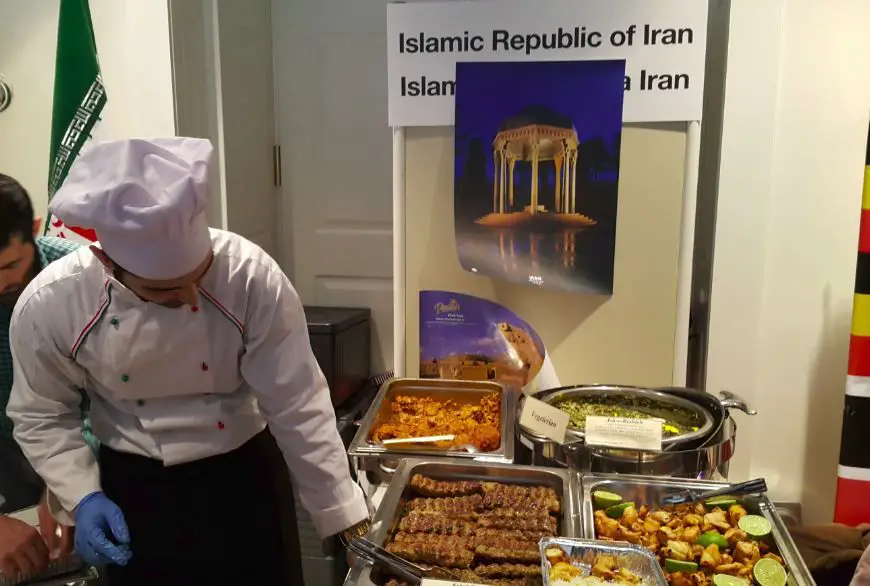 ...and Iranian food, and that's just the 'I's. Photo: Neža Loštrek
This year's bazaar will be special one, since it marks SILA's 25th anniversary, and the year in which the group received Slovenia's "Order of Merit" medal from President Borut Pahor – also due to make an appearance on Sunday – for the good work it has done in the country over the last quarter century.
President Pahor at a previous bazaar. Photo: sila.si
Such work is the real focus of the bazaar, which raises money for charity. This year the targets are the elderly in different areas of the Slovenia, with the money raised from the event – including from a prize draw – being used to support projects sited in Jesenice, Novo Mesto, Krško, Slovenji Gradec and Ljubljana.
More specifically, the charities that any visitor to the bazaar will be supporting are:
Organisation ALTRA:  Providing care, help and support for people with mental health problems and their relatives in Slovenia.
Ljudska Universa Jesenice and the project "Elderly for Elderly", supporting elderly people on low incomes.
The purchase of therapeutic devices for a home for persons with severe mental disorders in Novo Mesto
ASPI:  An organization for adults with Asperger's syndrome and their parents.
School supplies for the children at Ljudska Univerza Krško.
MOCIS Slovenj Gradec, which needs furniture for a multi-generation centre.
Overall, SILA's annual bazaar is a fantastic way to start the festive month, with food, music, colour, an international spirit and the opportunity to give back to, and be part of, the wider community in Slovenia, while celebrating differences and enjoying each other's cultures. A highly recommended event, from 10:00 to 16:00 Sunday December 3, in the ballroom of the Grand Hotel Union (the entrance on Nazorjeva Ulica, next to the Atelje restaurant).