Pritličje
This is the bar I visit most often, and I can say that in 2015 it was my second home and made one of the most challenging years in my life bearable. In a great relaxing atmosphere it offers great drinks and food, including daily soups and different vegan dishes. In the first part of the bar there is a comics shop, whereas in the second part there is a bar and a special space on the left which is often used as for meetings, lectures, DJ sets, and so on. Every month the Pritličje crew prepare their own programme, including live DJs, concerts, lectures, workshops, discussions, and exhibitions. All or most of the events are for free. What I especially love is that every summer they have an open-air concert each week in their terrace, or they had a DJ every night the past summer. Another thing I love about this place is that it is open until 03:00, as well as and the affordable prices of the food and drinks. It should also be noted that it's one of LGBTQ-friendly places in town.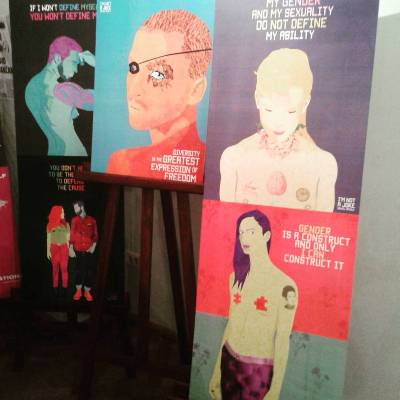 Culture of humiliation exhibition at Pritličje.
TOZD
In TOZD the atmosphere is always so relaxing, especially when the weather is nice and you can sit outside. It has a wonderful location and it's furnished like some bar from a magazine. The inside is really small, and you'll be lucky to get a place, so the terrace is almost always full, even in winter, and you'll never feel alone. I enjoy having coffee or a glass of wine while going over the latest magazines they have there, or just relaxing under the shadow of the trees. You can also have different snacks, sandwiches, soups and more. It hosts different promotions, exhibitions and DJ sets, but unfortunately such events are not so frequent.
TOZD Source: Facebook
Prulček
Located in Prule, an area of Ljubljana which is a little bit hidden, but again very close to the centre, Prulček offers live concerts for free. Jazz, rock, and other types of music, by bands known and unknown, can be heard there. The people are nice, and I almost always make new friends whenever I go there. Although it's mostly visited by the locals, you can see many foreign students and others from abroad here. It offers a large selection of beers at a reasonable prices.
 Jazzva nights at Prulček. Source: Facebook
Daktari
When you enter this coffee bar you feel like you've gone into some kind of a story from the past, or someone's living room. With its distinctive, cosy style Daktari has become one of the most recognizable places in Ljubljana. Here you can read a book during the day, or visit their evening events. They offer Slovenian and foreign craft beers and some snacks. They have literary evenings and concerts on Wednesdays and Sundays, and occasionally book promotions and exhibitions.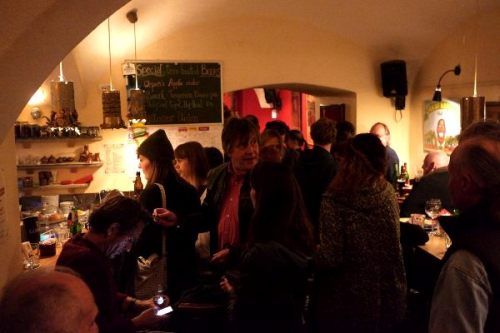 The usual crowd in Daktari Source: Facebook
Magda
This hipsterish bar offers live DJ sets in the summer on their terrace, whereas in winter everything moves inside, which is part of Ljubljana's Old Market, designed by the famous Slovenian architect Jože Plečnik.  This bar offers some special drinks and foods, depending on the season, such as oysters in summer, homemade Ajvar from Macedonia, and the famous Balkan dish sarmice in winter. You can also try homemade rakija, again from Macedonia  (but careful, it's strong), along with many other drinks. And you guessed right, the owner is Macedonian. Every week they have discounts on different drinks. All this is accompanied by their carefully chosen playlists.
Magda's summer terrace. Source: Facebook