May 24, 2018
Marko Miladinović is an actor, writer and entrepreneur. You might recognise his face from the TV show Dragi sosedje, the movie Šiška Deluxe, or the restaurant table that's having more fun. And if you don't know the face then then a good way to know the man, his appetites, and how Ljubljana feeds them is to pick up a copy of his new book, Ljubljana Well Done, a very personal guide to some of the restaurants, cafés and bars he loves in the city. (Produced with able support, in terms of concept, selection, drinking and dining, from Borut Kremžar.)
Borut, left, and Marko, right, show off their work. Photo: Marko Delbello Ocepek
In this work Miladinović plays the role of a streetwise bon vivant, who's as likely to drop a "fuck" or two into a conversation on fine wines and aged meats as he is to wax poetic on the role of burek in a classic night out, and reading this book is perhaps the next best thing to accompanying him on a long, lost weekend around town with a great hunger and a few pockets stuffed with 50 euro bills.
In the introduction he notes that as a young man he'd look at the fancy restaurants in Piran, his own meal being white bread and thinly sliced mortadella, and wonder what dining out in style was like. Some decades and a few successful careers later Miladinović knows all about it, and the book is obviously the product of years of eating out, and eating well. So it's a love letter to food, but more specifically to restaurants, the appeal of which he explains as follows: "Just think: you come, you order, they serve you, and then they clear the table while you continue chatting undisturbed with your select group of friends. What else could I want in my life?"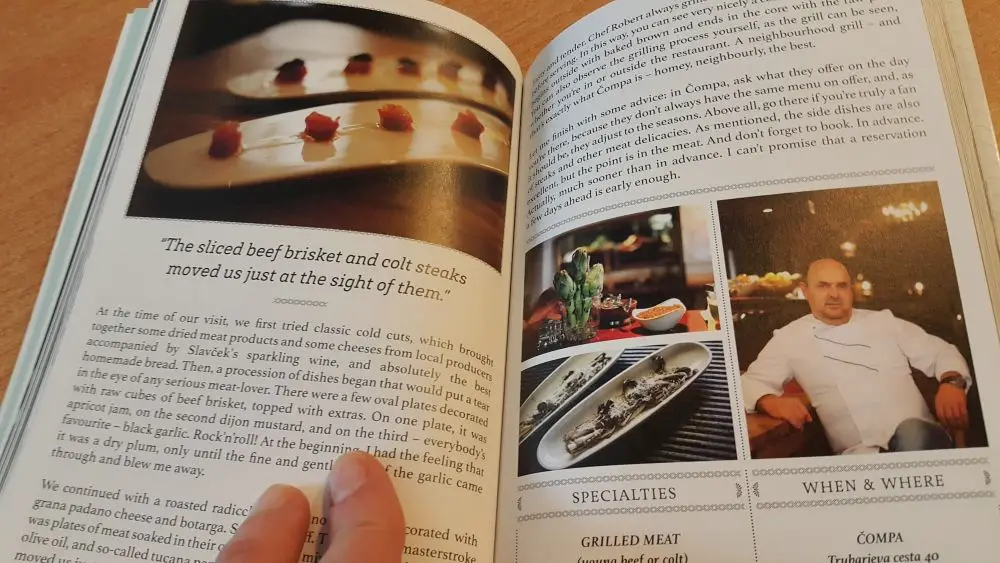 The salty writing is paired with beautiful pictures. Photo: Paloma Lavor
As a regular customer who often dines in large groups, Miladinović knows his way around the various menus, and is good at noting his favourites and those of friends, as well as pointing out details you shouldn't miss and stories that bring each venue alive. The writing is vivid, enthusiastic and sometimes a little drunken and raw – think Anthony Bourdain without the cooking tips – and thus when making your first visit to one of these places it might already feel like your second.
Left, the Mayor of Ljubljana, Mr Zoran Janković, spots Pope (from AS) with a fresh plate of meat; right Marko. Photo: Marko Delbello Ocepek
Still, it's important to note that the book makes no claim to comprehensiveness, and instead presents write ups of just 19 restaurants, cafés and take-aways around town, all chosen for their obvious appeal to Marko, Borut and friends, along with eight thumbnail sketches of other places. While this short list causes some notable omissions, there's no complaining over the names included, and although Miladinović's clear preference for meat paired with a fine wine or craft beer means there are few suggestions for vegetarians or teetotallers, it would be a mistake to see the book as a restaurant guide and dismiss it for lack of breadth. It's more a celebration of eating out with friends, with good food and drink, to be sure, but supported by the atmosphere, service, and setting, when the customer has the magician's ability to conjure up more pleasures on demand, and when this occurs in a city with such a concentration of delights as Ljubljana.
Pope and the Mayor. Photo: Marko Delbello Ocepek
And thus aside from adding a few more places to the to-dine list, and I'm already making plans for a kožarica, readers will also learn where Miladinović got stoned for the first time, the location of the oldest – and he maintains finest – burek store in town, the first sushi restaurant in Slovenia, the four hours a week when a semi-secret hotdog spot is open, what chef Janez Bratovž likes to snack on at home, what architectural trick AS Aperitivo has up its sleeve, which Slovenian speciality has made it into space, and where there's a rooftop swimming pool in the Old Town.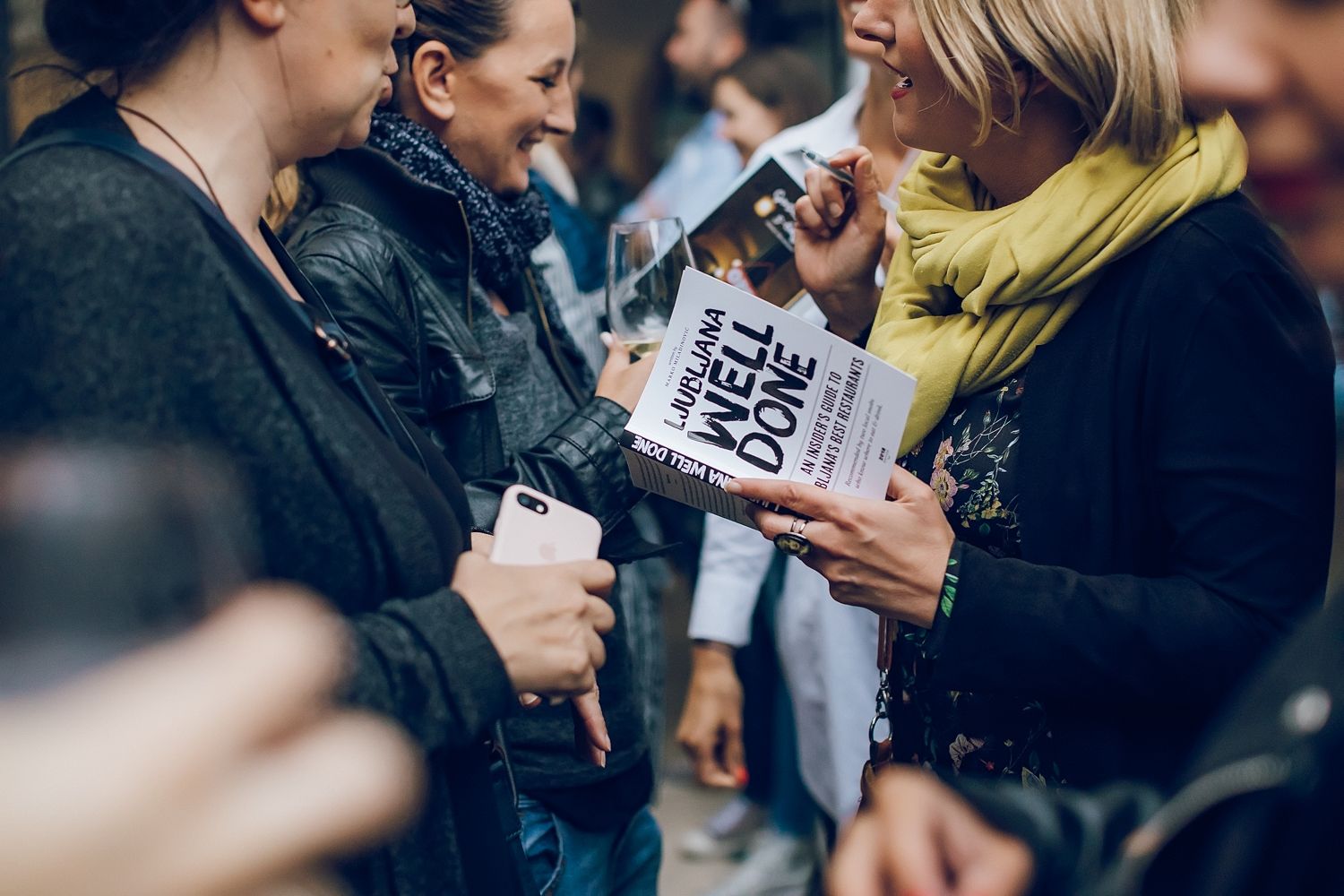 The launch party was a good one. Photo: Marko Delbello Ocepek
The places covered range from fine-dining staples to fast food joints, with the reviews showing a keen understanding that each should be judged on its own merits, for what's trying to achieve and present itself as. It's this spirit of openness, generosity and love that comes through in the writing, and which makes the book a great walking guide to dip in and out of, argue and agree with, and return to, time and again, not least for the beautiful photographs (by Matej Družnik), and the clean, easy to navigate and pleasing design (by Darko Miladinović).
Marko signs a book while watching the ham. Photo: Marko Delbello Ocepek
The book isn't in stores yet, but you can pick up a copy of Ljubljana Well Done from the Tourist Information Center near Three Bridges, or order one online. At just 14.90 euros for more than 140 full-colour pages it's a bargain in the world of Slovenian publishing, and a delight for anyone who wants to learn more about the dining scene in the capital, the people and the places in addition to the food.