May 23, 2018
In 1894 the architect Vladimir Šubic was born in Ljubljana.
Although Šubic was a modernist and functionalist, many of his buildings bear historicist decorative elements such as proto-Dorian pillars, shaped pedestals, semi-circular triphora, telamones and statues.
His best known building is Nebotičnik (1933), which on Slovenska street continues into another one of his buildings, the Bank of Slovenia.
Nebotičnik, the whole building from Cankarjeva Street.
Nebotičnik on Slovenska Street, continuing into the Bank of Slovenia.
Detail on Nebotičnik
The Bank of Slovenia with Zara on the corner of the building, behind Nebotičnik
Telamones at the entrance to the Bank of Slovenia
The area of government offices at the corner of Gregorčičeva and Prešernova Street has another two buildings designed by Šubic, the Trade House Palace and the Trade Academy Palace (1934), today home to the Economics High School.
This picture of both of them was taken on Gregorčičeva Street:
Main entrance to the Economics High School from Prešernova Street.
Miklošičeva, leading to Ljubljana Main Train Station, is one of the main streets for Šubic' architecture:
Chamber of Labour (1928), today home of The Slovenian Cinematheque
Residential Building of the Pension Fund (1928), with a typical Vienna-style ground floor reserved for shops.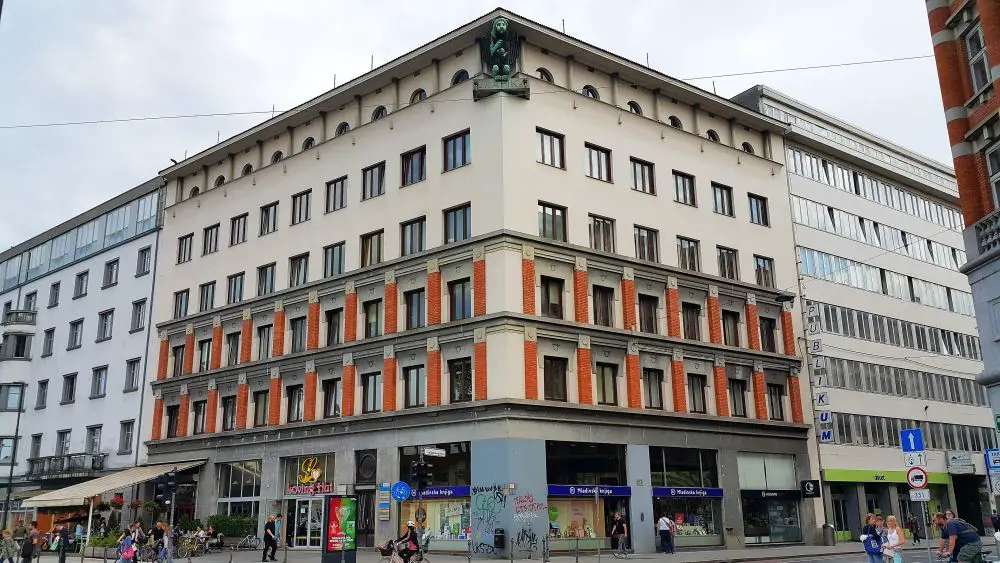 Grafika Palace (1927), across the street from the Train Station, was the first skeletal building in Slovenia.
The last Šubic building we managed to take a photo of today, his birthday, was the residential building Meksika (1927) on Njegoševa Street, which is nearby the emergency vehicle entrance to the Emergency Clinic of the University Medical Centre.
The building got its name after the volunteers the Austrian Empire gathered to help restore colonial order in Mexico following the 1864 rebellion.
In the Slovene architectural history, the building represents the first example of a successful collective housing project in Ljubljana.
Šubičeva Street in Ljubljana, however, is not named after Vladimir Šubic, but rather after his famous relatives, painters Janez and Jurij Šubic. The street got its name in 1893, one year before Vladimir was born.