If you happen to be addicted to ice cream, like me, then you know that summer is not the only season when you can eat it. Just today I had a scoop of and it's October. Ice cream in Ljubljana is a big thing, you can find many ice cream shops, and new ones are opening every day. But, how do you choose the best ones in what has become "the kingdom of ice cream"?

Note: I made the list of patisseries which offer "homemade real ice cream," a "gelato type" of ice cream, no frozen yogurt and no "make your own combination of ice creams with adding your choice of extras". So I am talking about genuine artisanal ice cream, created and made in Slovenia, not a franchise type of thing, but stores which are usually crowded and do not need additional advertising, since they are simply the best.

1. The king and queen of ice creams in Ljubljana is Vigó.
There are many reasons why I chose Vigó among the many ice cream shops in Ljubljana:

a. The tastes. One taste has been already made of two or three different ingredients. That means if you choose a half-half, mixed scoop you can get up to 6 different tastes. I often wondered how it's made, since it includes two or three tastes. For example, my favourites are cheese-cake and Madagascar, but you can choose from among around 20 different flavours. The final touch is the liquid chocolate topping, black or white by your choice.

b. The service. The staff is always welcoming and they really seem they care. I was never treated badly; I never had to wait much, despite the long lines of up to 5 metres outside the store. I just don't know how they manage the crowd whenever I go there, and I hope they're paid well.

c. Vigó Ice Cream is a Slovenian product and a brand which offers freshly made ice cream every day. The diverse range of unique flavours offered by Vigó is the result of many years of research by its founder, who learned the craft in Italy. Gourmets and lovers of ice cream and everything sweet, you simply cannot miss the opportunity to visit Vigó. There are currently two branches, one in Ljubljana and one in Koper which slightly differ in the tastes they offer.

2. Cacao
Before Vigó was opened in 2015, Cacao was my absolute favourite ice cream in Ljubljana. I was addicted to their well-known tastes: muffin, almond creme, Kinder, sacher, pistachio, and more….

There are two Cacao stores, in Ljubljana and one in Portorož. I know, I might be a hair-splitter on this one, but I have to mention that the service and the overall energy in Ljubljana are a little lower as opposed to the Cacao in Portorož, where the service is very polite and very fast, despite the crowds, and it has fast become an institution.
I always make a visit when I am at the seaside. In fact, it's too bad ice cream always wins for me, and so I'll probably never get to try Cacao's ice cream based drinks, cakes and other desserts. While no longer my #1 spot, I usually go to Cacao when there is a really long line at Vigó, as they are only a short distance apart, and both very close to Three Bridges.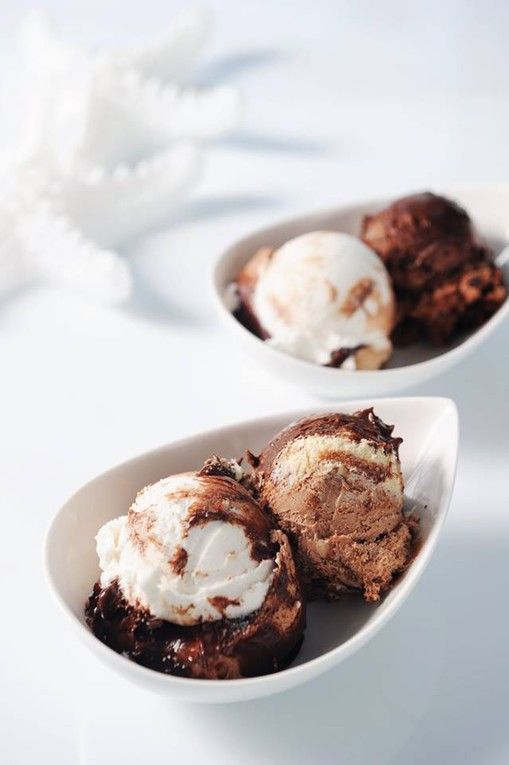 How Cacao ice cream is served. Source: Cacao 
3. Fetiche pattiserie

The patisserie and bar Fetiche offers non-typical flavours of ice cream in Ljubljana, and if you are a lover of unusual tastes then this is the place for you. By "unusual" I mean really salty pistachio, cognac with dry plums, an ice cream made of black sesame, which is actually black, mango, various other exotic fruits, vanilla from Tahiti, and the list goes on. One thing to note - it's probably the most expensive ice cream in Ljubljana.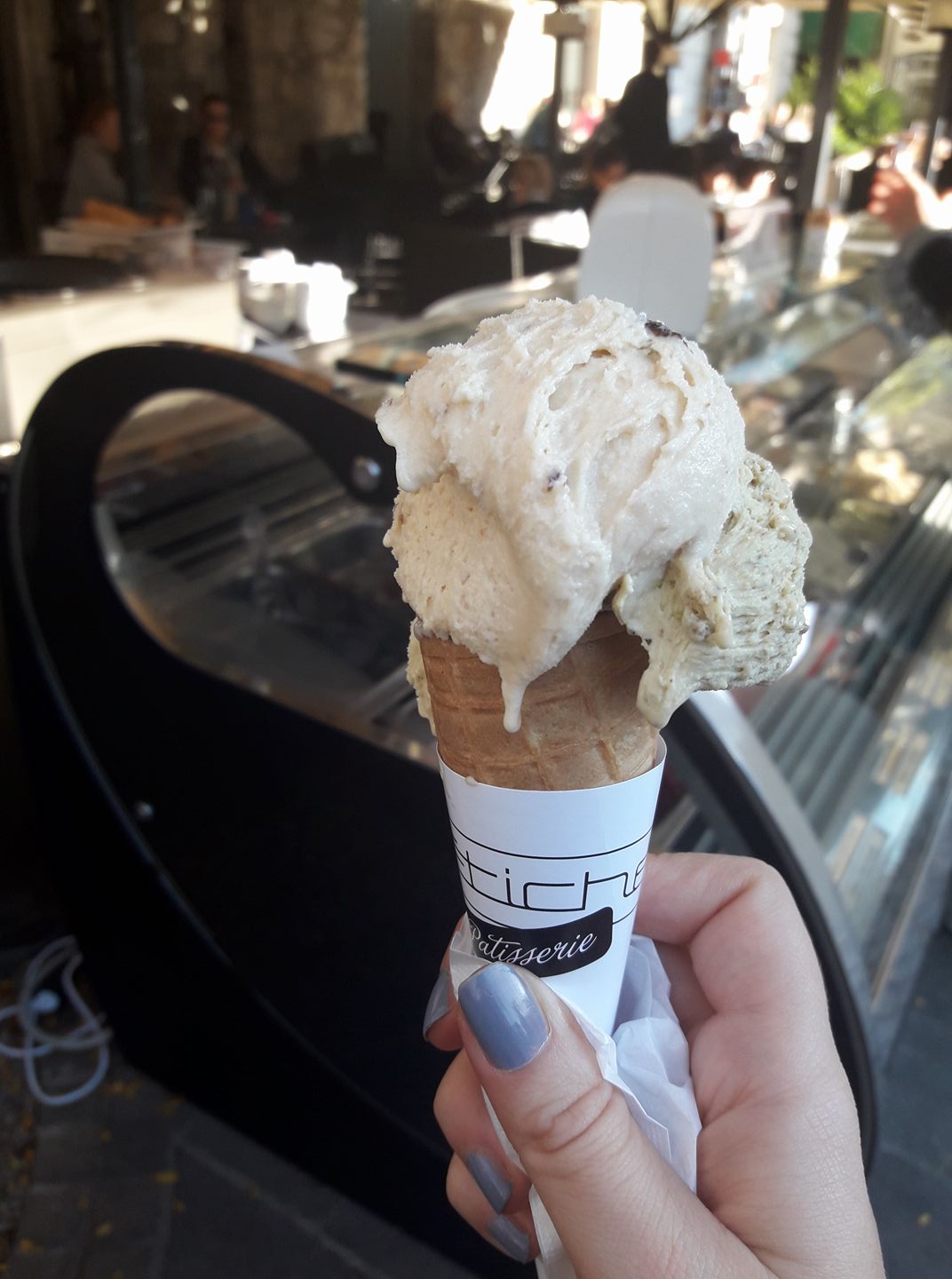 Plum with cognac, pistaccio. Source: Jasminka Mitkovska Facebook 
4. Zvezda
Zvezda is one of the most famous patisseries in Ljubljana. It already has in four locations in Ljubljana, and one in Piran, and offers many different types of ice cream, including vegan and ice cream with stevia for diabetics. And for those who can eat whatever they want, then you name it, they probably have it, with one of the largest selections in town, so you'll always find something to please you.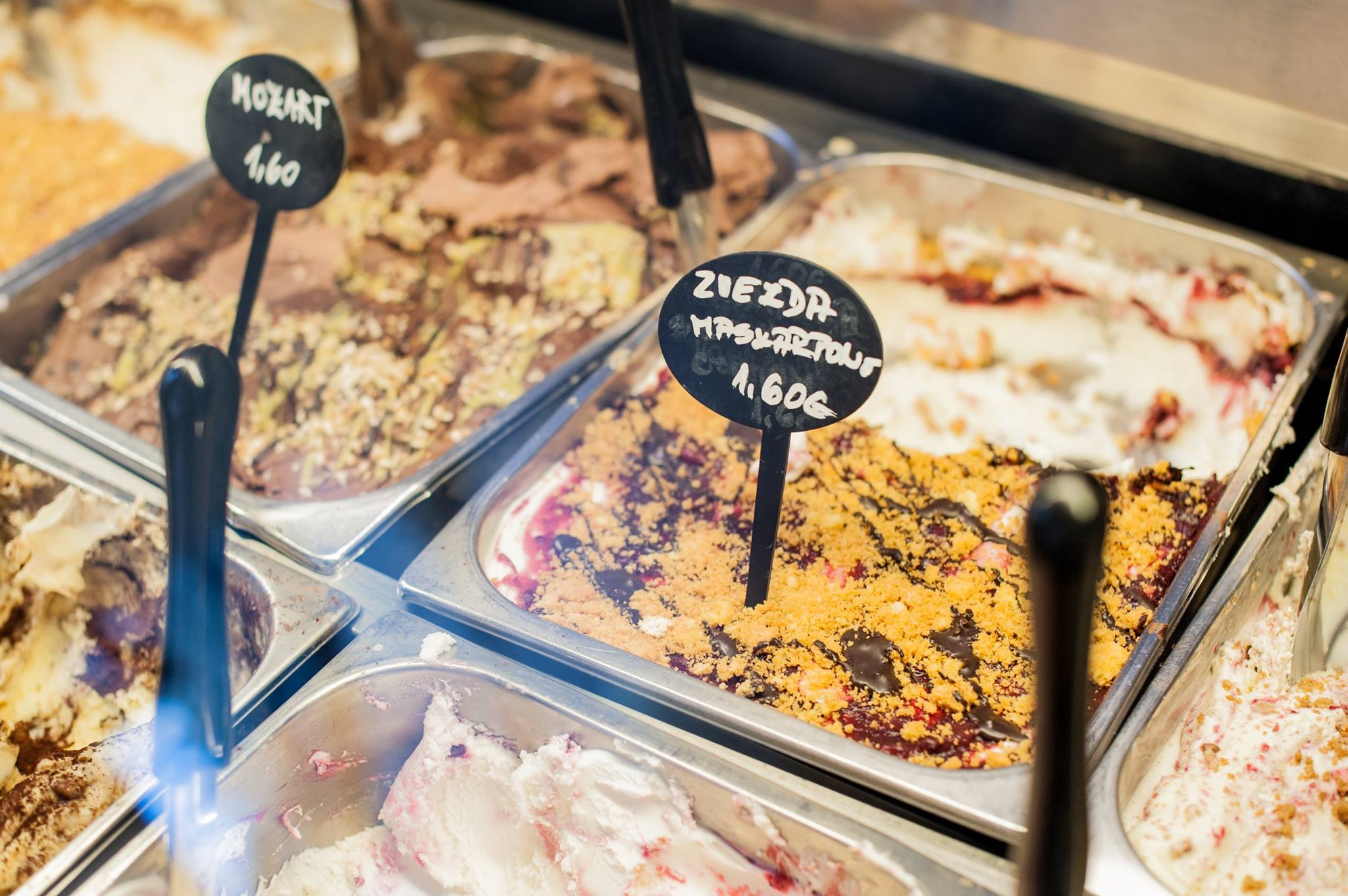 Mascarpone and Mozart ice cream in Zvezda. Source: Zvezda Facebook
 5.  Dobnik Chocolate Atelier 
The Dobnik chocolate Atelier is last but not the least in the list of stores with exceptionally tasty ice cream. Like their chocolates and desserts, the ice cream is handmade, using the best ingredients, no preservatives and always fresh. Depending on the season the tastes vary. The most interesting ones in winter season are dark chocolate with herbs, liquors and spirits. The staff are also excellent.
 Greek yoghurt with blueberry. Source: Dobnik Facebook
 Note: The service and how to make it better is a big issue in Ljubljana, and to me as well. There are places with great food which I have been avoiding only because the service are so rude that they even scare me. In order to raise awareness on this issue even more, in each article I am going to mention the situation with the service. By this I hope that the owners, the managers or the leading figures will pay more attention to their staff, pay them fairly, since they are the face of the place, and will try to employ professional staff, not only focus on hiring students for part-time jobs.