STA, 9 September 2021 - Slovenia exported goods in the value of EUR 3.5 billion in July, or 17.3% more than in the same month last year, while imports, also totalling EUR 3.5 billion, were up by 26%. The imports-to-exports coverage was 98.9%, as a EUR 40 million trade deficit was recorded in July, the Statistics Office reported on Thursday.
Slovenia's exports and imports in July were also higher than exports and imports in the same month in the pre-coronavirus year 2019, increasing by 14.2% and 13.7%, respectively.
The value of goods exported from Slovenia to other EU member states was up by 8.1% to EUR 2.2 billion, while the value of goods imported from these countries increased by 15.5% to EUR 2.2 billion.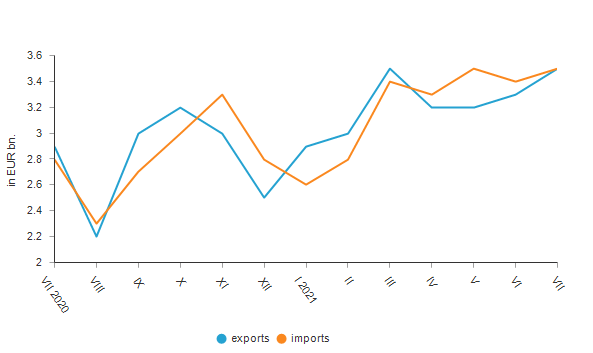 stat.si
The share of trade between Slovenia and non-EU countries increased somewhat, with Slovenia exporting EUR 1.3 billion in goods there (36.5% more than in July 2020) and importing EUR 1.3 billion, or 49.2% more than in the same month last year.
In the first seven months of the year, Slovenia exported EUR 22.6 billion in goods and imported EUR 22.5 billion in goods, which is an increase of 18.8% and 25.1% on the annual basis, respectively.
In the January-July period, Slovenia thus recorded a EUR 200 million trade surplus for the imports-to-exports coverage of 100.8%.