STA, 23 December 2020 - Housing real estate prices in Slovenia were 0.1% higher in the third quarter of 2020 compared to the second, data from the Statistics Office show. Sales figures show a high demand for second-hand properties, while demand for new real estate is far weaker.
The average price of new housing real estate, which includes flats and houses, dropped by 4.4% in the third quarter over the one before. Prices of new flats dropped by 4.5% on average and prices of houses by 3.1%.
The average price of second-hand real estate was up by 0.6% over the second quarter. Only houses sold at higher prices (+2.4%) while the prices of flats dropped by 0.4% on average.
The prices of second-hand flats increased only in Maribor, where they were up by 3.3% after dropping 2.7% in the second quarter over the first. In the rest of the country, the prices of flats decreased.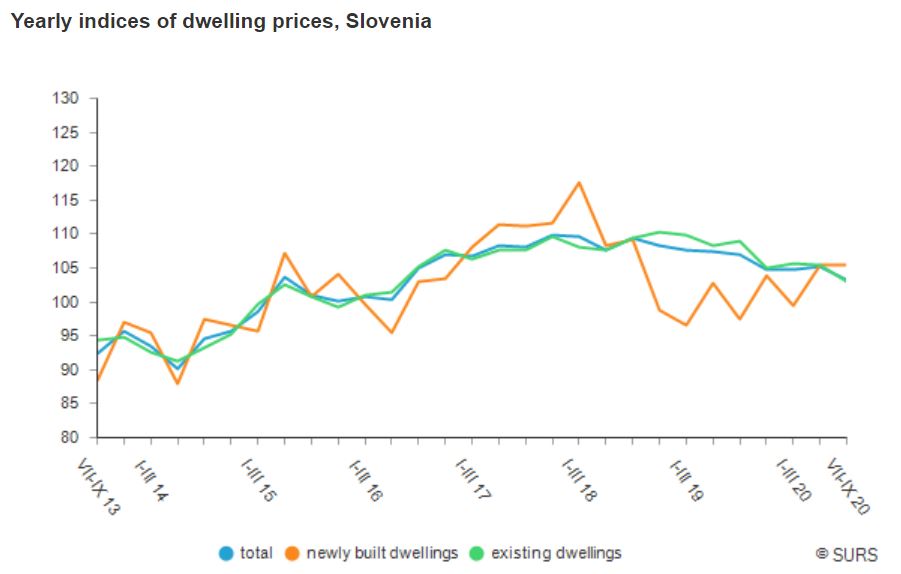 SURS
Year-on-year, housing real estate prices grew by 3.3% in the third quarter. The increase was seen in both new (+5.4%) and second-hand (+2.9%) real estate.
Total value of housing real estate sold in the third quarter amounted to EUR 356 million, EUR 126 million more than in the previous quarter. The Statistics Office attributed this increase to the effects of the Covid-19 epidemic on the property market.
In total, 3,364 pieces of second-hand real estate changed hands in the third quarter of the year, the most since the fourth quarter of 2019. In total, the prices of second-hand housing reached EUR 336 million.
A total of 1,947 second-hand flats were sold for EUR 196 million, while the total of 1,417 second-hand houses sold for a combined EUR 140 million.
Meanwhile, only 93 new pieces of housing sold in the third quarter for a total of EUR 19 million. The figure was still higher than in the first and second quarters, but below a years-long average, the Statistics Office said.

More data here