STA, 14 October 2019 - Slovenia met 52% of its energy needs by own sources of energy in 2018. Of the 148,000 terajoules (TJ)) in total energy production, the Krško Nuclear Power Plant (NEK) accounted for 42%.
Renewable sources of energy, including hydro-power, contributed 32% to the output and coal 25%. Other sources represented less than 0.5%, the Statistic Office reported.
Petroleum products represented a third of energy supply (34%), with nuclear accounting for 22%, renewable sources (including hydro energy) for 17%, coal for 16% and natural gas for 11%.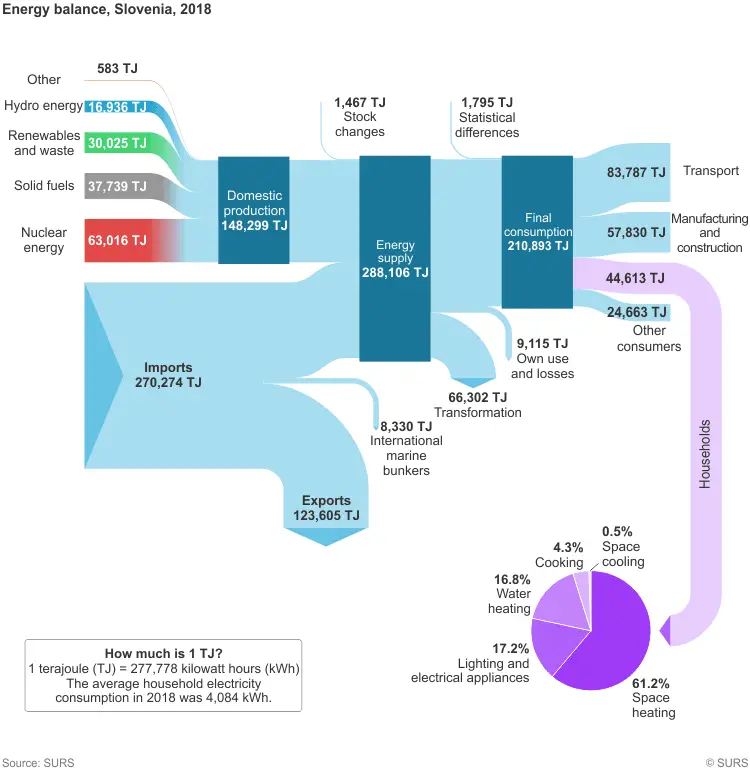 Final energy consumption totalled 211,000 TJ, 40% of which was consumed in the transport sector, 27% in manufacturing and construction, 21% by households and 12% by other consumers, including agriculture.
Almost half of the final consumption was covered by petroleum products (47%), followed by electricity (24%), renewable energy (13%), natural gas (12%), heat (3%) and solid fuels (1%).
Slovenian households consumed 44,600 TJ of energy, by far the largest share (61%) for home heating. A further 17% was consumed for each lighting and electrical appliances and water heating, 4% for cooking and less than 1% for cooling.
Households depended on wood fuels for 39% of their consumption, electricity for 27%, natural gas for 10%, extra light heating oil for 9%, district heating for 7%.
They got 3% of their sources from ambient heat, obtained by means of heat pumps, and as much from liquefied petroleum, and only 1% from solar energy.
More details on this data can be found here