March 2, 2018
Disclaimer: I came here after four days sick with a cold and consuming nothing but grapefruit juice, fizzy water and a few nuts, all appetite lost and sleeping 12 hours a night, resigning myself to a changed life. No alcohol, no partying, no undue stress on the system at all, just clean-living, yoga, kettlebells, meditation, language study, and jogging by the river. Things, when I recovered, would be different.
However, part of my job is going out and eating cheeseburgers, so as soon as I was hungry again I wrapped up against the coldest day in years and headed out to a place that's long been on my list, Makalonca.
The place is down at water level, but the entrance is up on the embankment
While I tend to toss out the phrase 'great location' with all the abandon of a hyperactive real estate agent anyone who's spent some time in central Ljubljana knows there are a great number of great locations here, all offering another view of this city and its charms, and Makolonca really does deserve that tag.
Located at Hribarjevo nabrežje 19 in a Plečnik-designed structure that takes you down beneath the embankment, on warmer days you can sit right out by the river, not looking down at it far from above, but almost at the level of the water. It really is, to use another tired phrase, a near unbeatable location, and with a range of drinks and prices that I'd say put it on the must-visit list for tourists and see at least once for locals, especially in the summer.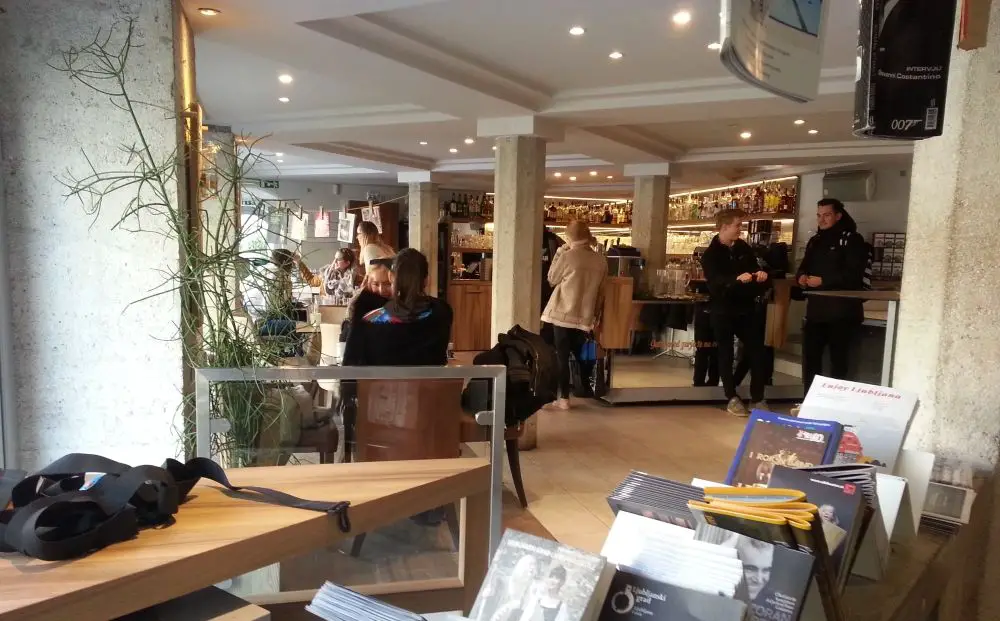 The menu has a lot of drinks, and a list of cigars and cigarettes, plus pancakes, salads and breakfasts, and I'll be back to explore those when I can do so in short sleeves and sandals, but on this visit I came with one thing in mind.
The full name of the place is Makalonca Bar & Burger, and so I was hoping for a focused approach on the latter part of the deal and ordered the Petrusov burger, which, as per the menu is a "beef patty (160 g), butter bun grilled on butter, onions, tomatoes, lettuce, bacon, fresh cow cheese (sic), mayo and homemade BBQ sauce". This is 7.90 EUR, and although it doesn't say so on the menu also comes with fried potatoes, albeit in disks rather than the more traditional sticks. There are two other beef burgers, a chicken one, and vegetarian option (cheese), all either 7.90 or 8.90. I didn't order a beer this time, but you can get a large unfiltered Union on tap for 3 EUR, a good price for this location.
The service was very fast, and the whole thing looked great when it arrived, as you can see above, but then things started to become disappointing. The fries were warm and little well-rested, and over-salted for my taste, while the "butter bun grilled on butter" turned out to be a greasy delivery system for a greasy mess of a burger. The various components were clearly visible, but without much textural or flavour variation, and while the burger itself came medium rare (unasked for, but welcome) it really didn't taste of much.
The view from my seat inside
But I was hungry, so I ate it and enjoyed the view, with even the inside seats offering a lot to look at outside, but I was disappointed and somewhat confused. Perhaps I was there on a bad day, for the place or myself, but for a restaurant with burger in the name the meal was unimpressive, especially with, as this series hopes to point out, the growing number of establishments downtown now offering something special for about the same price.
It was well below freezing on the day I visited, so no one was sitting outside, but in the summer who wouldn't want to be here?
Overall, I may give the burgers here another try on a summer day when I can sit outside and enjoy the location, but I'm far more likely, certain, in fact, to be back here with visiting friends for brunch and a coffee or a beer – they have a great selection – while suggesting that we go and eat elsewhere.
Makalonca Bar & Burger is at Hribarjevo nabrežje 19, and is open every day from 08:00–03:00.
Previous entries in this series: