December 16, 2017
I started this series, and attack on my arteries, with a look at Hood, the place I go most out of habit, and because the price for a standard cheeseburger, fries and beer (10.50 EUR) is something I can easily put down as a justifiable indulgence. This week I'll take a look at a place that's very much same same, but different, the 40% more expensive and alcohol-fuelled Pop's Place, down by the river, on that stretch of Cankarjevo nabrežje that starts with the cake and cocktail sensation Lolita, and then keeps running. It's a great location, and one that also explains the prices.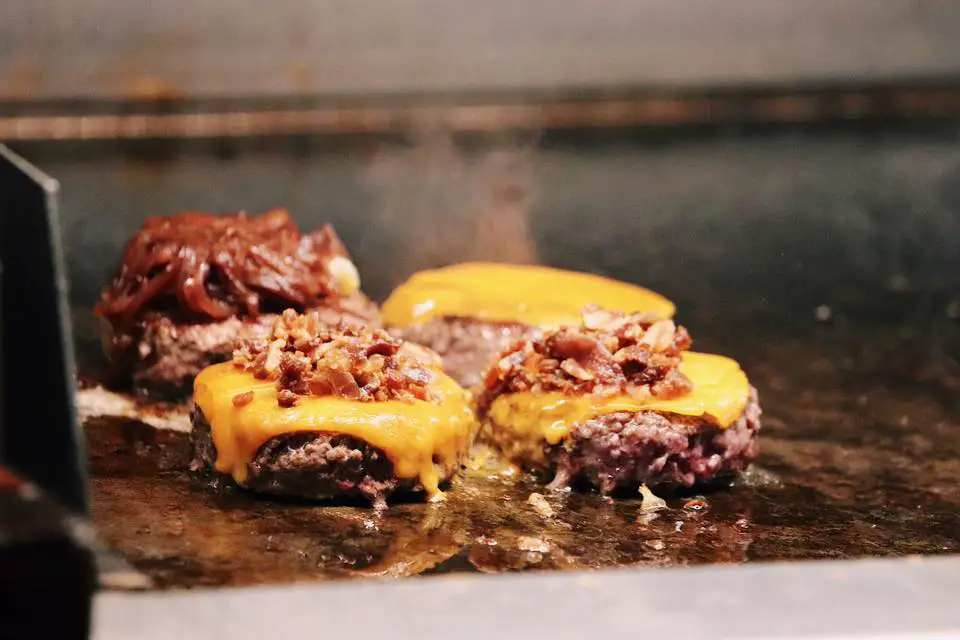 Inside there's a bar and a griddle on display. but the rest of the operation's out of sight. The décor is bare wood tables and floors with high stools inside, and something similar outside, along with normal height tables and standard chairs that'll work better for anyone under 150 cm. The walls have some faux US license plates, a little Hollywood sign and, on my most recent visit, a red Make America Great Again baseball cap. This atmosphere is reinforced with a soundtrack of classic cocaine and yacht rock.
The best way to think of Pop's, especially at night, is not so much a burger place as a bar with an excellent menu. This isn't to say that the burgers and other items aren't good, or that most customers don't order some food, just that it's OK to be a lot drunker here than at Hood, although still less drunk than you can be at McDonald's.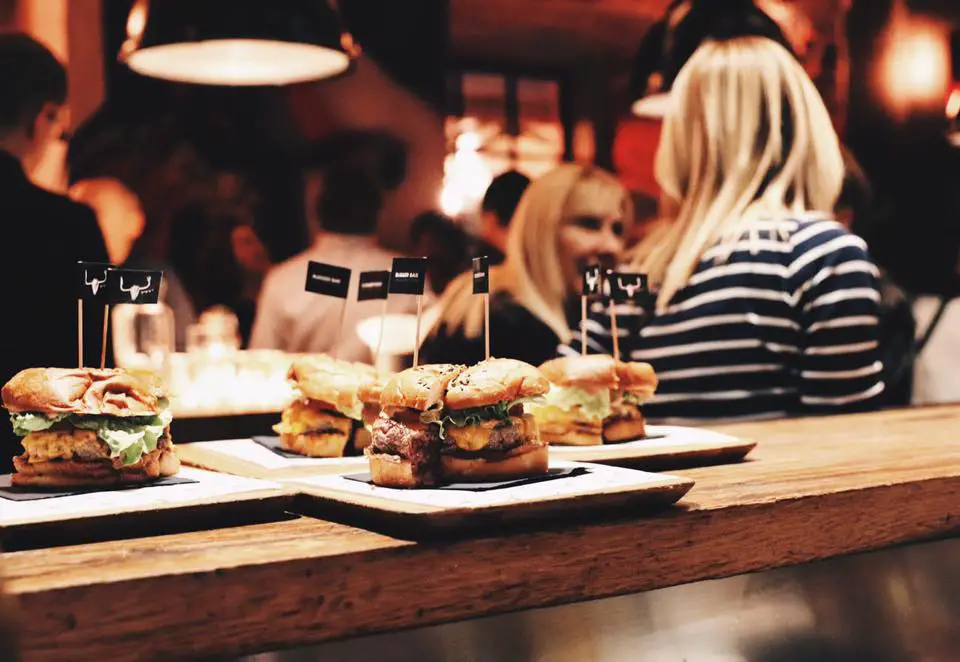 If you get a seat inside the relatively small space on a busy day you may be surprised how long you need to wait for attention or to get your order. That's because Pop's is much bigger than it looks, its territory stretching out on either side with far more open-air seating than in, although I always go inside to get the music and bar action, because if I'm paying these prices I want the full experience. It also makes it much easier to get a server's attention, and I can sit alone and drink at the bar or long table with a book without taking up a table for four, or being seen by anyone I know paying so much for a burger.
Your meal usually comes on a small wooden tray, and the burger isn't in a wrapper, so grab some napkins because you'll need them. The fries, which look, smell and taste very similar to the frozen ones I pick up from the store, come in a tall cup stuck there with a magnet, and there's enough to go with a burger without much to spare. Small jars of ketchup and mayonnaise are also on the tray. The burger is cooked rare, medium or well done, and there's some salad and special sauce in there too. Not as messy as Hood, and more or less as good, depending on your taste.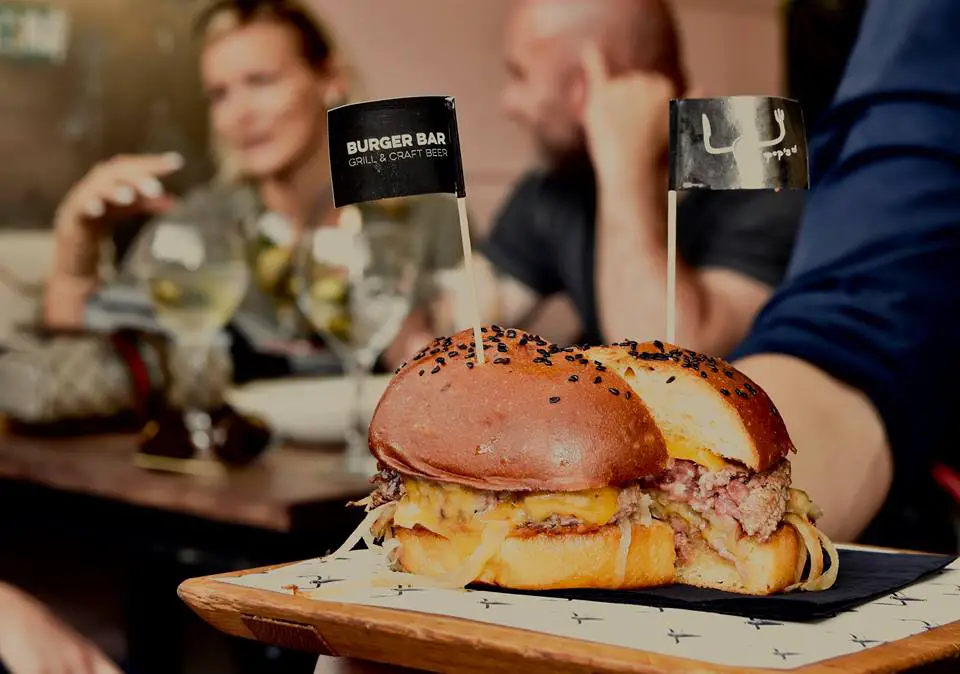 The basic cheeseburger, California Classic, is good burger, which it should be at 7.90 EUR, but the menu has all kinds of more baroque versions, along with chicken, great barbecue ribs, fish and chips, and assorted other bar food and vegetarian options, really something for anyone, along with a huge list of craft beers and other drinks. Indeed, on a good night this is more a bar that sells burgers, and would be an ideal place, at the appropriate age and life event, to get hammered and eat too much. Although that'd hit your wallet, if I didn't mention it before, with my burger, fries and house beer coming in at 14.50 EUR compared to the equivalent being 10.50 at Hood. That said, and ignoring the price differential, if you'd rather drink and eat than eat and drink, then Pop's is the better of the two, with more seats and tables, more drinks, and more choice for those in your party who don't want a burger.
Overall, and in line with the ambiance and music, the archetypal Pop's Place band is The Rolling Stones and the archetypal song is 'Start Me Up', since both the place and song are rather too monied, somewhat cynical, but still good enough. Pop's Place is open Monday–Saturday, 12:00–01:00, Sunday 12:00–00:00, and you can find out about the latest meals and deals at the Facebook page
Other stories in this series can be found here.