August 14, 2018
Slovenia doesn't have many tall buildings, and until 1983 the tallest was Nebotičnik, on Slovenska cesta, built in 1933 and, at just over 70m, fairly easy to miss if you've been told to look out for "the skyscraper" – the meaning of its name in English. Even now the tallest building in the country, Crystal Palace (Kristalna Palača), out near BTC city, is a mere 89m.
This week's property, a long-term rental apartment in central Ljubljana, is thus notable for a number of reasons, but perhaps most of all the fact that it's in the fourth tallest building in the country, and a familiar landmark that can be seen from many angles downtown. It's in the 72m-tall Situla building, winner of the 2014 Plečnik Award and known for its distinctive exterior and a location that's ideal for walking or cycling into the centre, as well as getting quickly on to the main roads that can take you all over the country.
It's a 77m2 one-bedroom apartment perhaps best-suited for a single professional or couple looking for medium- to long-term rental, at €975 a month for a six-month stay, with the per month price rising for shorter contracts, going up to €1,260 for one month, with utilities extra. It's being handled by Think Slovenia, who describe it on their website as follows:
Spacious, modern one bedroom design apartment in the sought after landmark "Situla" development, built in 2012, on Vilharjeva street. Just 15 minutes' walk from the centre of Ljubljana on the north side of the railway station in the Bežigrad district, in close proximity to the hospital district and with excellent connections to all other parts of the city.
The apartment includes a large entry room, utility room, storage room, bathroom, spacious open plan kitchen with living room and 1 bedroom with walk through closet. Both bedroom and living room have access to a lovely balcony with views over the city towards the Ljubljana castle.
There is a storage room that belongs to the apartment in the basement and a private parking space in the underground garage. An additional parking space is available at an additional €70 a month. The apartment is rented out furnished with new contemporary fittings and furnishings.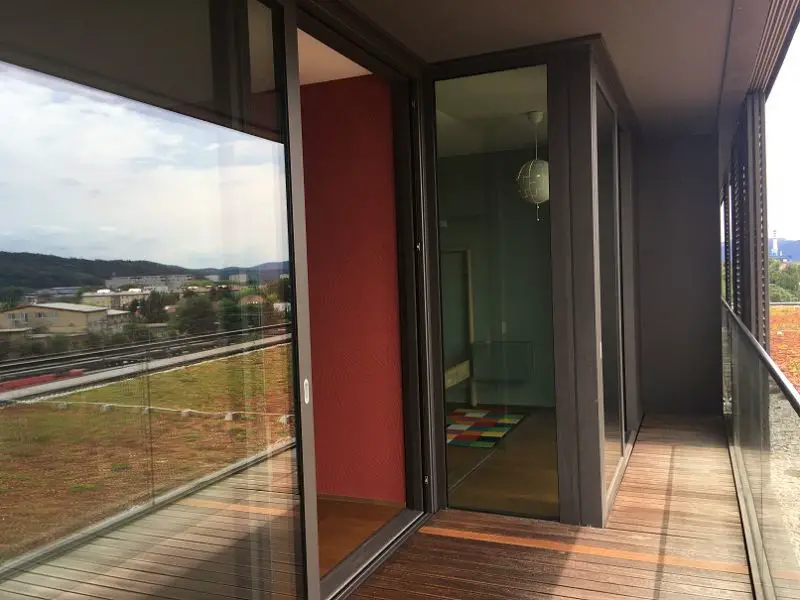 You can see more of this, and other properties for sale or rental all over Slovenia, and for a range of budgets, at Think Slovenia.