May 22, 2018
Vipava Valley was in the news today, having been placed at #9 on Lonely Planet's Europe 2018 Top 10 Destination list. However, less noticed by the local media was the fact that one location in Slovenia actually had a higher ranking on another list produced by the travel publisher. This was the Julian Alps, sitting near the top at #3 in the Best in Travel 2018 Top Region ranking. Moreover, this is not just a European list, but a global one, with the area sharing the spotlight with the likes of Los Haitises National Park in the Dominican Republic, Kii Peninsula in Japan, and Languedoc-Roussillon in France.
And it's this area, the Julian Alps, that provides the setting for this week's focal property. In addition to the stunning views and various activities on offer, it gives anyone staying there the enviable chance to eat in three countries in one day – Slovenia, Italy and Austria.
The building itself contains four apartments, and thus offers a variety of options for small to large groups, with the one pictured being the ground floor unit, sleeping six and available for from 95 EUR a night. It's currently being handed by Think Slovenia, who describe it on their website as follows.
Villa Planina sets new standards in Kranjska Gora apartments, offering spacious and luxurious self-catering accommodation for groups of 2-20 in four apartments in an alpine chalet with wonderful uninterrupted views of the Julian Alps. The villa is located in a quiet spot on the edge of the charming authentic alpine village of Rateče, just a few kilometres out of Slovenia's most famous mountain resort – Kranjska Gora. It's also within walking distance of several excellent local restaurants and amenities, with fantastic walking and mountain biking right from the doorstep of the villa and a wide range of winter sports in very easy reach, including skiing at Kranjska Gora Ski Resort (5 minutes' drive) and Tarvisio Monte Lussari (15 minutes' drive).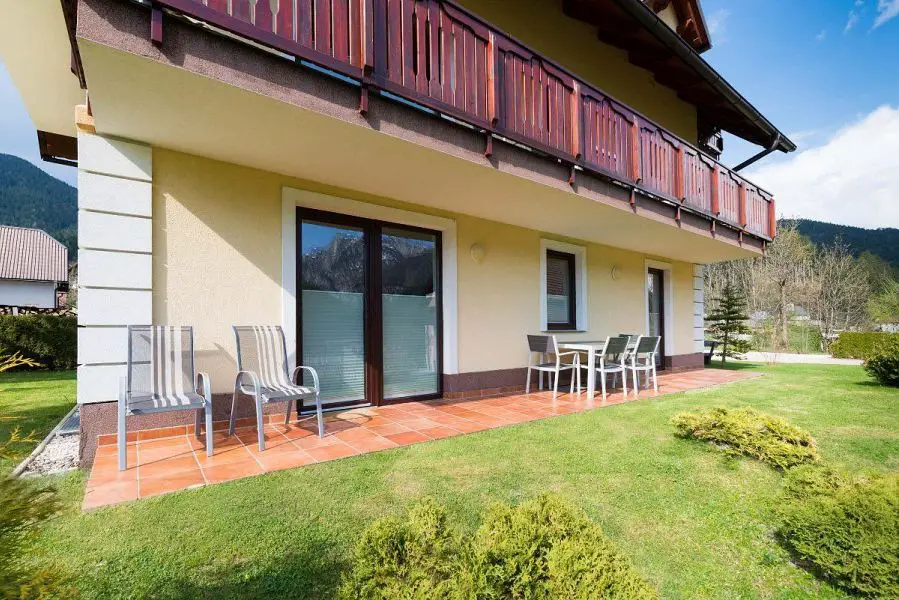 Rateče itself is a charming mountain that offers an authentic Alpine experience, several excellent traditional restaurants, renowned in the region amongst local Slovenians, Italians and Austrians, and various local amenities such as post office, supermarket and bars. The villa itself offers uninterrupted views of some of the Julian Alps' most majestic peaks and a huge amount of stunning walking and mountain biking from the doorstep – such as the wonderful Tamar Valley into the Triglav National Park or to the Triple Border, the point where Italy, Austria and Slovenia meet. The beautiful Belopeški Lakes (Laghi di Fusine) are on the Italian side of the border, just a short drive away.

Kranjska Gora itself is the most famous mountain resort in Slovenia, hosting annual world cup skiing and ski-jumping events. But with stunning mountain scenery, great access to the Triglav National Park and a host of outdoor pursuits (e.g. walking, mountain biking, horse riding) it remains very popular all year round. Lake Jasna, a short walk out of the centre of Kranjska Gora, offers a stunning place to swim and sunbathe in beautiful mountain scenery. The town itself is a pretty Alpine affair, very family friendly, with lots of lively restaurants, bars and a couple of swimming pools / spas. There is a regular daily bus service between Rateče and Kranjska Gora, great for getting to the ski slopes if you don't want to drive.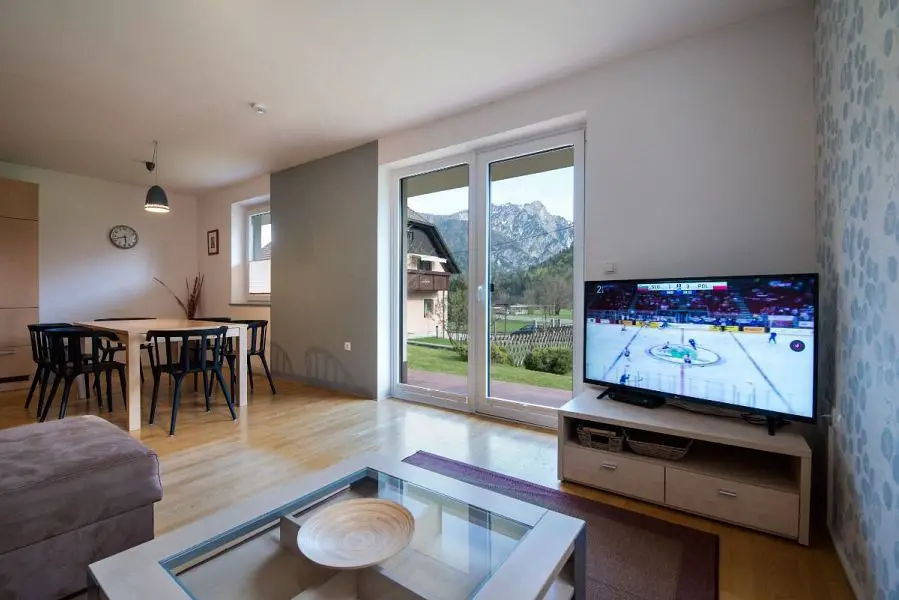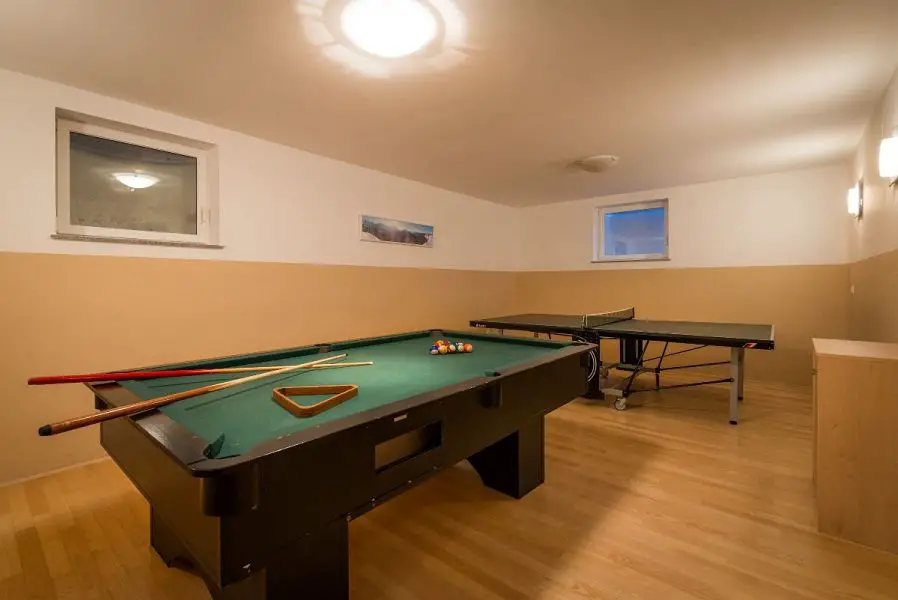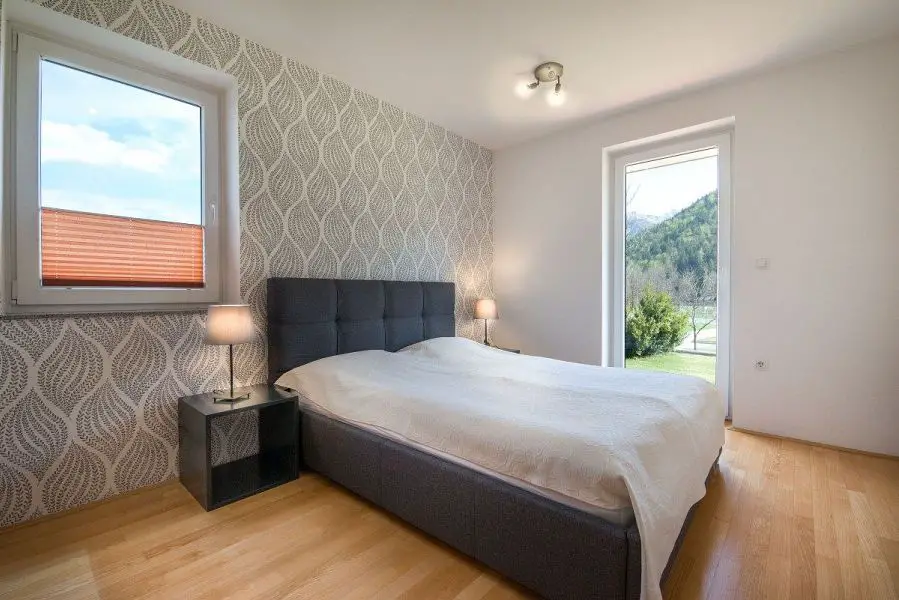 The four apartments, each offering extremely spacious, comfortable and well-equipped accommodation, along with large balconies with fantastic views. Other amenities include a dishwasher, washing machine, flat-screen TV, cable TV, internet, underfloor heating. There's a communal garden and games room with pool and ping pong tables, as well as a kid's soft play room in the basement. Renting the whole house is thus a wonderful option for larger groups of families and friends.
You can see more of this, and other properties for sale or rent, at Think Slovenia, while the listing for the ground floor aparmtment is here, and that for the whole building is here.