May 2, 2018
This week's property is a rental in the ever-popular area of the Bohinj Valley, the ideal spot to relax in nature or get out and exert yourself with hiking, biking, climbing, kayaking, canyoning, river-walking, fishing or, in the colder months, skiing, snowboarding and the like. What's more, the place sleeps 10, making it a roomy retreat for a family or two, or a whole bunch of friends to enjoy.
The property can be rented for from as little as 135 euros a night, or just 13.5 euros a bed, depending on the time of year, and is being handled by Think Slovenia (LINKS), who describe it as follows on their website:
Dandelion House is a very special four-bedroom, newly converted Alpine farmhouse with garden, sleeping 10, in a stunning position with open views across the Bohinj Valley in the charming village of Podjelje at the foot of the Pokljuka Plateau and within the Triglav National Park. It is 20 minutes' drive from Lake Bohinj one of Slovenia's most stunning natural treasures, and in close proximity to quality skiing at Vogel and a huge range of river, lake and mountain activities in Summer. In the other direction lies world famous Lake Bled (25 mins) and the Pokljuka Plateau (10 mins) home to Slovenia's best cross-country skiing and some of its most spectacular walking and biking trails.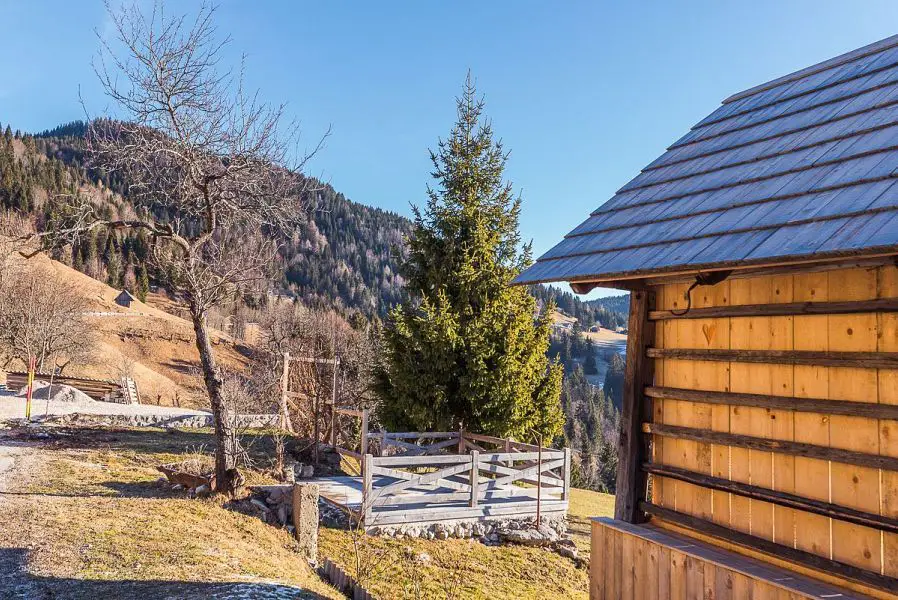 The nearest town is Bohinjska Bistrica (circa 20 minutes' drive) which also offers a modern water park with ample pool and spa facilities as well as a range of useful amenities including shops, bars, restaurants & bank. There are other restaurants and a small shop in Srednja Vas 10 minutes' drive away. Twenty five minutes' drive away from the house is world famous Lake Bled. Please note that Dandelion House is located at circa 1000 m above sea level and there is a quite long winding road up to the house, a little steep in places.
Dandelion House Bohinj offers very comfortable and high-quality accommodation for groups of up to 10 with four bedrooms and two sleek bathrooms. Converted in 2016, the house retains the charm of the original building combined with modern comfort and attractive furnishings, features and fittings.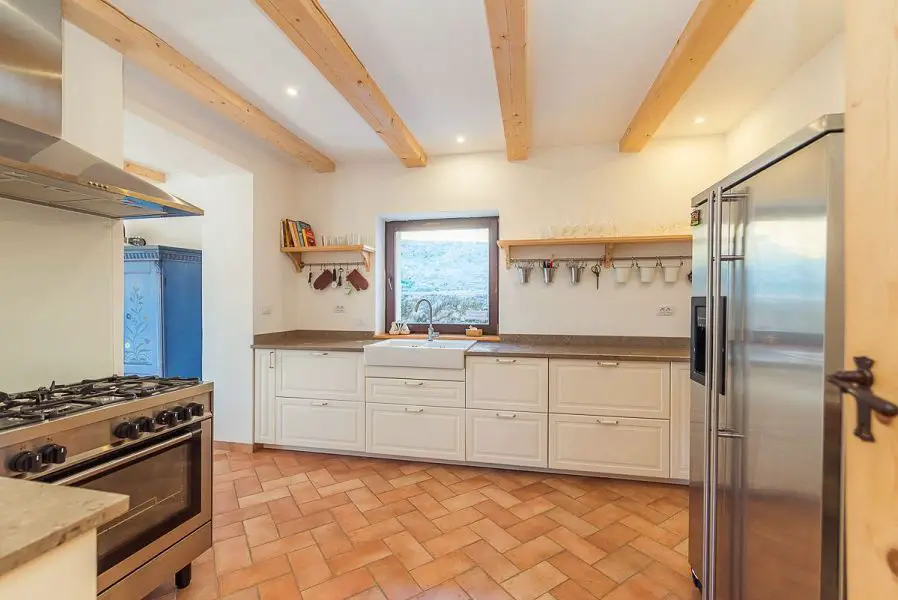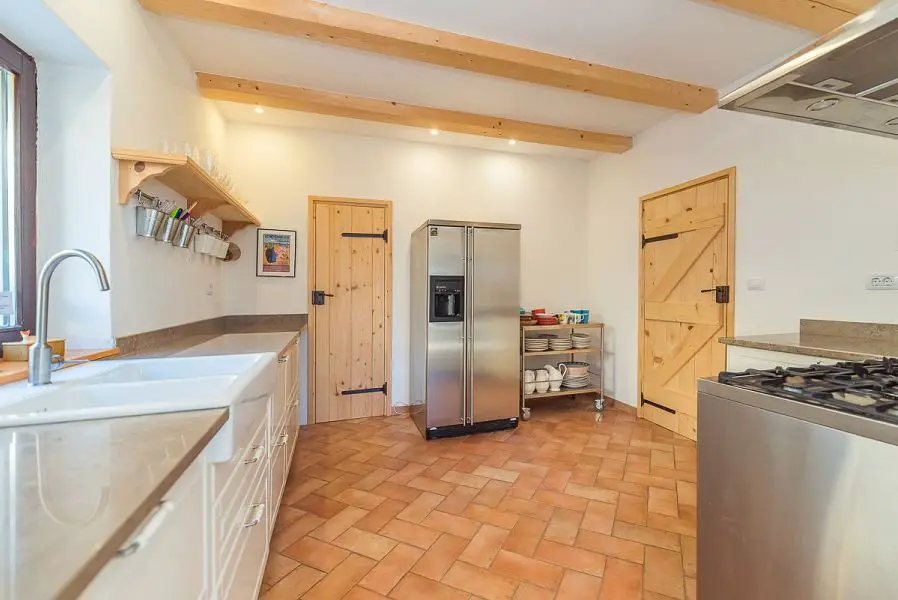 On the ground floor is an entry area with staircase and doors through to the downstairs fantastic bathroom with freestanding bath and shower enclosure and separate toilet, kitchen and living room. The kitchen, which is semi open plan with the living and dining room offers ample space for cooking and is fully equipped with high quality appliances including dishwasher and door through to pantry / utility room / back door.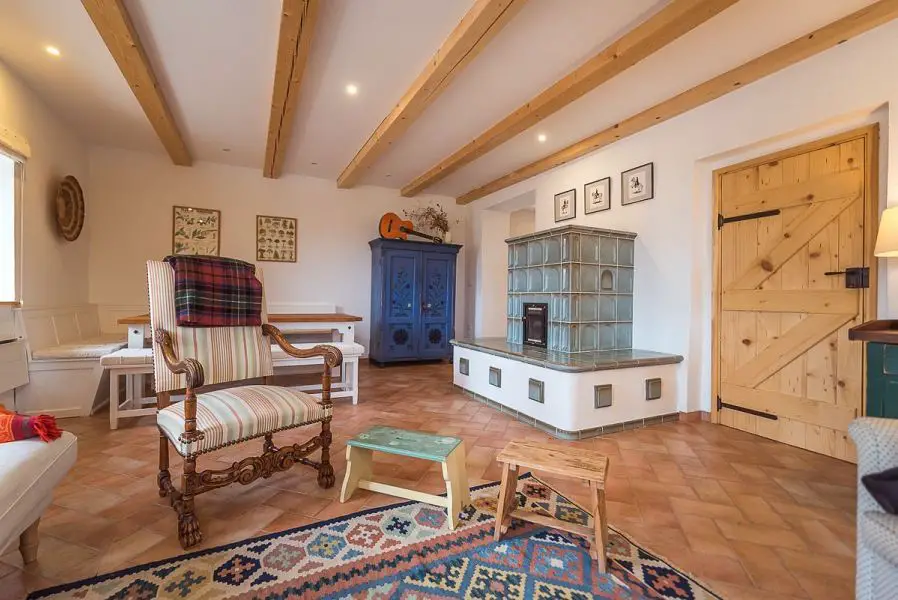 The centre-piece of the living room is a lovely hand built ceramic wood burner between the comfortable seating area and dining corner with hand build bench seating. Upstairs is a nice landing with seating area and four bedrooms with exposed beams – one twin, three doubles with one further twin on the loft level accessed by staircase, second bathroom with walk-in rain shower and a separate toilet.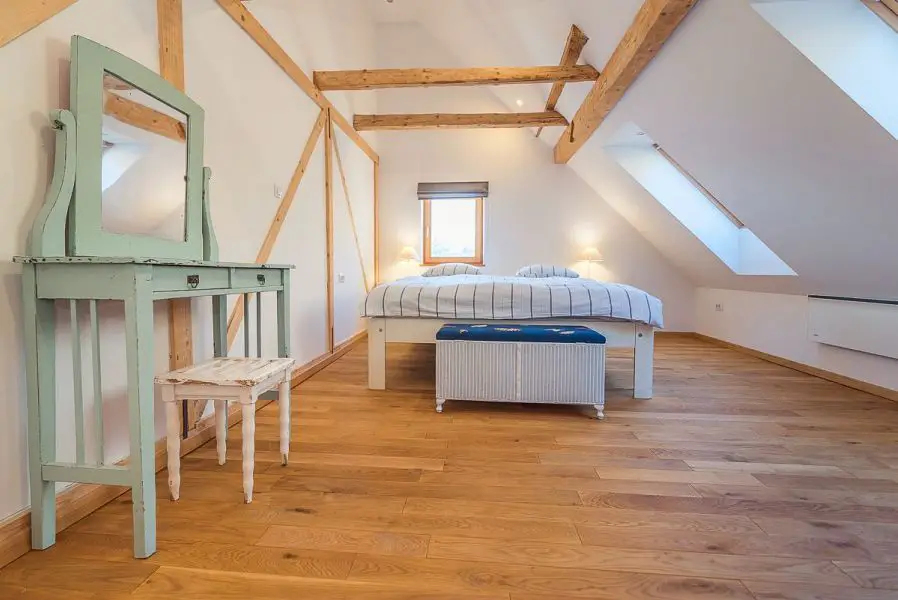 Outside, the house offers a terrace area with outdoor seating and table tennis table. Below this there is a small field which can be used but it is relatively steep. In terms of facilities there is a flat-screen TV with multichannel TV and Wi-Fi available across the property, as well as a table-tennis, a washing machine and dryer available for guest use.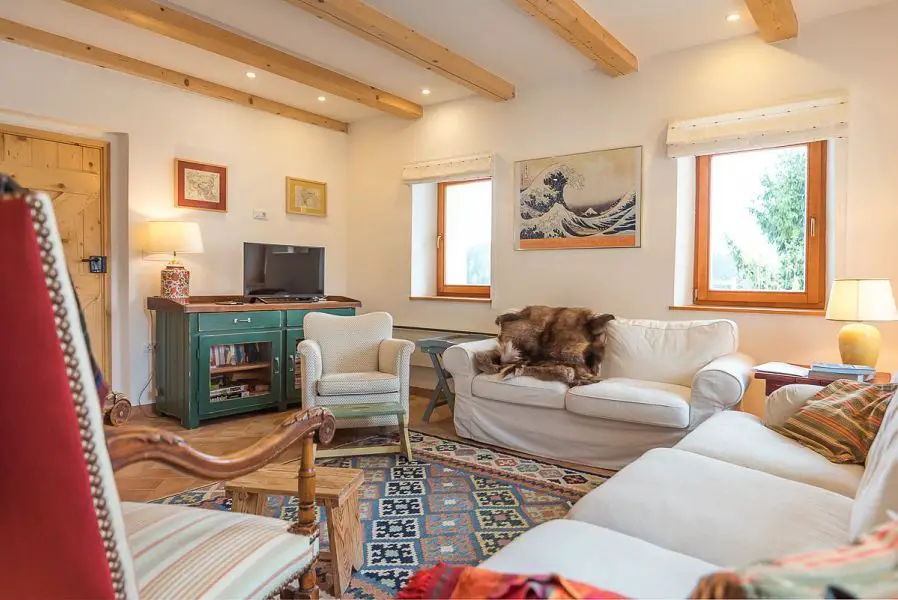 You can learn more about this property, and many others being offered for sale or rent all over the country, at Think Slovenia.