Prešeren Square is so established as the heart of Ljubljana that it's hard to imagine a time when this now fully pedestrianised crossing once had cars and trams running through it, never mind before the Three Bridges or the monument to Prešeren himself. The former was only built in 1932, while the latter was erected in 1905, and I've heard that the bare-breasted muse above the poet so scandalized users of the pink Franciscan Church of the Annunciation that trees were planted either side of the entrance to obscure the view. A look back in time shows that this may indeed be the case.
The picture at the top of this article shows the square in 1890, when it was known as Marijin trg, or St Mary's Square, with the spire of city hall seen in the background. The photo below, from 1895, shows many of the same buildings supported by wooden beams due to damage from the earthquake that year, which led to the reconstruction of much of the city, including those structures just over the bridge.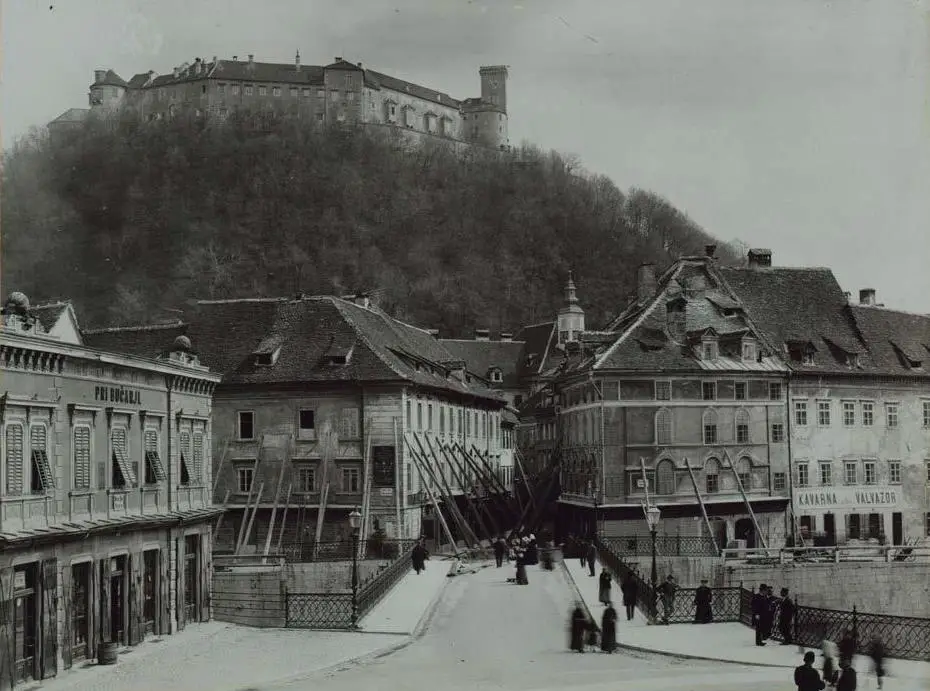 Wikimedia
And next we can see a photo of the roughly the same scene in 1904, with the new building that now houses the Tourist Information Center clearly in view, along with the tramlines coming down from Čopova. If you're familiar with the building that now has a Lekarna, you'll just the top of it, with the rest hiding behind a house and restaurant that sit over where the Prešeren Monument will soon be placed.
Wikimedia
The same scene from a different angle is shown below, in a picture from 1905, I guess just some of the buildings were torn down and work on the Prešeren Monument started.
Wikimedia
Then we have this picture of the Prešeren Monument hidden behind canvas, awaiting it's unveiling on September 10, 1905.
Wikimedia
Finally, we have a picture from a few days or maybe hours later, when the monument was revealed to the public, along with a clear view of the building that has today's Lekarna.
Wikimedia