April 23, 2019
Love brought Denise from Malta to Slovenia, which is now her second home and the new field of her gastronomic and oenological exploration. Denise recently decided to start a blog about her food and wine-tasting experiences in Slovenia, which also includes an overview of the upcoming events, information on active osmica's and other informative insights. Interested to learn more, we got in touch and this is what she told us.
Where are you from, and what brought you here?
I'm from Malta, and happened to marry a Slovenian. We constantly travel between Malta and Slovenia, with Malta being our main base for now. I must admit, we do spend a good part of our year in Slovenia because there are so many new places to explore. We'll see what the future holds.
What work did you do in Malta, and do you think there is a demand for it in Slovenia?
I'm a content writer by profession, and since I write in English I think I could come in useful to some people here.
What were your first impressions of Slovenia, and how do they compare with what you think now?
My first encounter with Slovenia was brief: I travelled through the country by train as I was on my way to Croatia from Trieste. This was back in 2002. At that moment I just knew I had to return. The natural landscape struck me as impressive, so green and different from what I'm used to back home in Malta.
That first impression hasn't changed. On the contrary, the more I travel around Slovenia, the more I fall in love with its natural wonders and beautiful scenery, and can confirm that I was so right about my initial feeling about the country.
My true love affair with Slovenia began in 2013 when I first visited my (now) husband.
What has been your experience of culture shock in Slovenia?
I haven't experienced much culture shock. The main difference is the language, which I'll get into later, and the rather high alcohol consumption among the ageing population. Something I find funny: Some people keep calendars featuring naked women in their garages or workshops. Can you imagine how awkward I felt one day when trying to speak to my husband's grandma who was standing right in front of a picture of this lady baring her all?
What's your blog, and how long have you been running it?
I launched my blog Wine Dine Slovenia about a month ago now.
Why did you set it up, and can you explain why you chose food and wine as the focus?
I set up Wine Dine Slovenia to express my passion and fascination with the diversity of Slovenia's gastronomy, in the knowledge that I'll also learn more about Slovenian culture and way of life as I go along with developing it. I love to enjoy my food, as you'll see through my posts, savouring every bite as I chew and every sip as I discover a new wine.
Slovenia has such a large number of successful winemakers who are extremely passionate about what they do. You can see that they put their heart and soul into their vines and wines. Some winemakers take that extra step by letting their spirit run wild, to be daring and come up with something innovative. It's only recently that the high-quality level of Slovenia's wines is becoming more internationally appreciated. So I'd like to contribute to spreading the word and get more and more people outside of Slovenia, and within it, to appreciate what the country has to offer in terms of wine as well as food.
What can people learn on your blog?
Through part of my blog I aim to present the genuine and typical food and drink that is served in relatively unknown parts of Slovenia, such as undiscovered or out-of-the-way farm-stays or 'turistične kmetije' as they're known here in Slovenia. You also have the 'osmice' that are held twice yearly (spring and autumn) in the western region of Slovenia (Primorska) during which farms offer their home-made produce, such as cured meats, bread, cheeses, olive oil, sausages, stews, štruklji, fruit juices, wines, and liqueurs.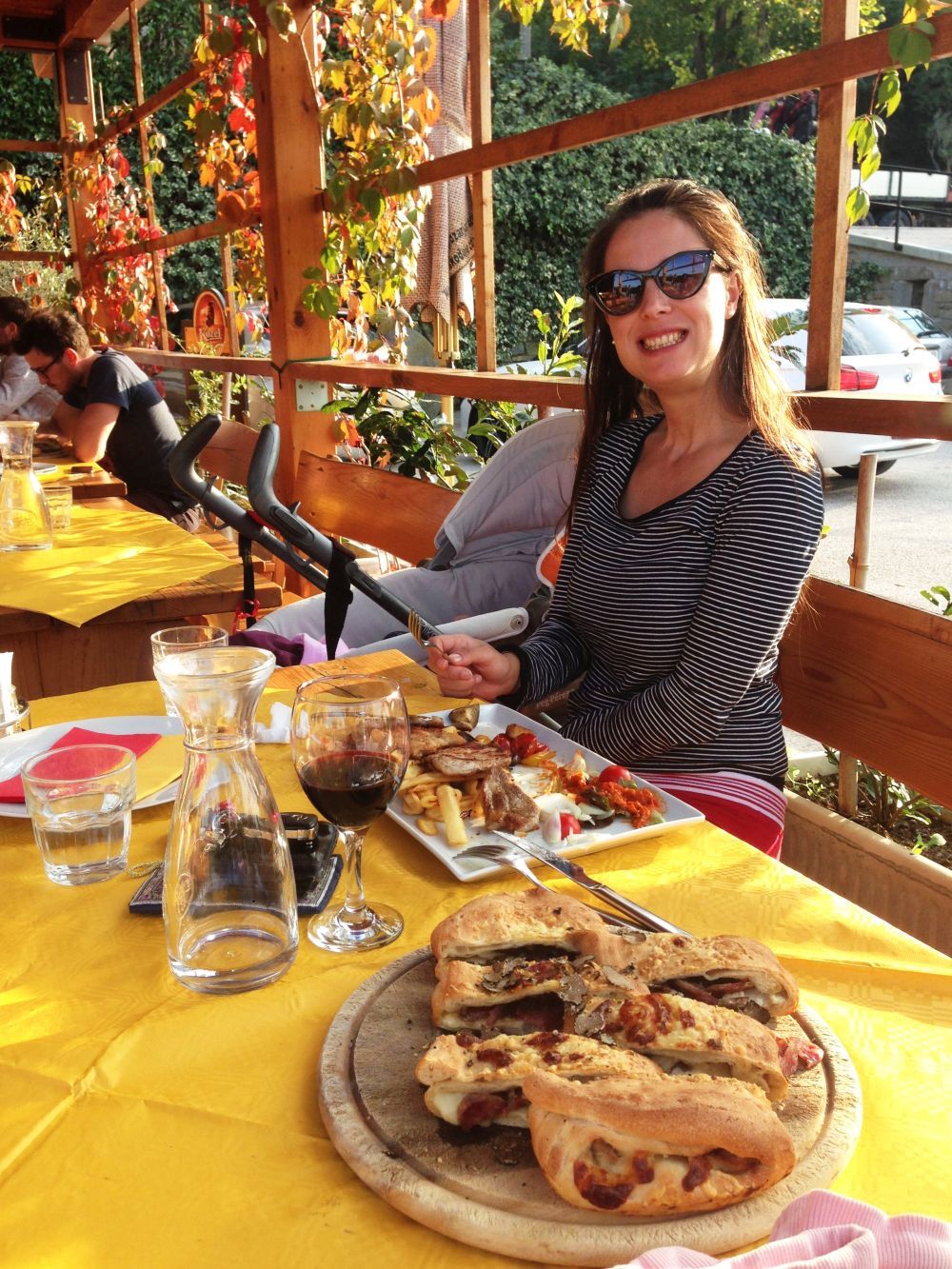 Enjoying ombolo with truffles at Gostilna Oljka in Vanganel (Koper)
What are your plans for your blog as it develops?
The blog is still very new, but I will work to make it more comprehensive so that it will be a reference point for those who want to know all about what's happening in the food and wine scene in Slovenia. I eventually want to include a complete list of wine and culinary events taking place all over the country.
Where can people find out more about your work?
You're very welcome to visit my blog: Wine Dine Slovenia and follow me on social media: Facebook, Instagram, and Twitter. I will greatly appreciate your support! Feel free to leave your comments on the blog itself and even on my social media pages.
What are some things from Slovenia that you think Malta could benefit from?
Definitely sustainable tourism and sustainable development.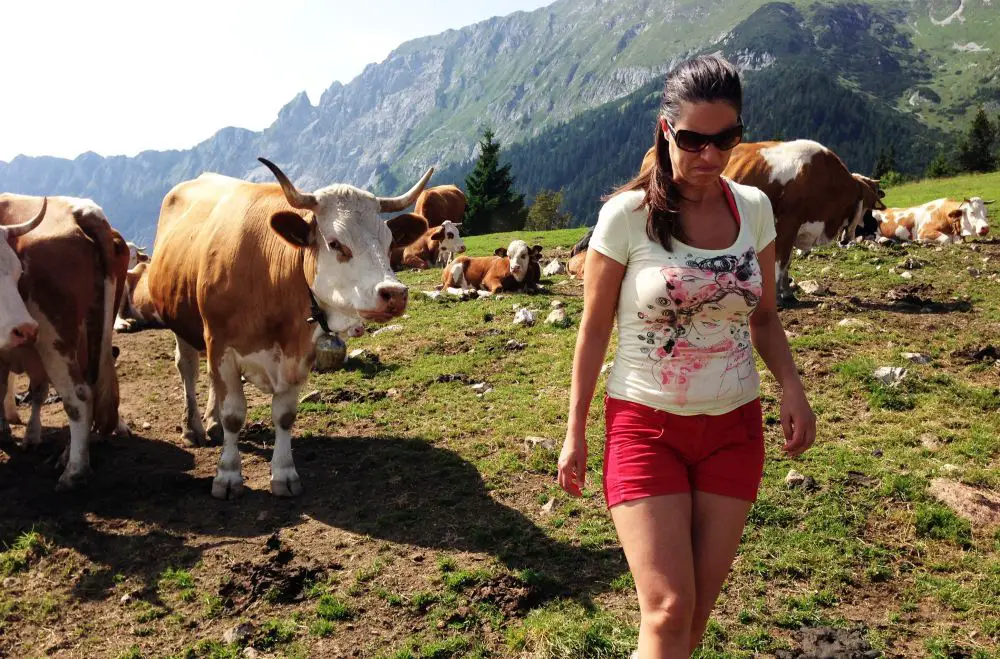 Encounter with cows at Kofce
And what are some things from Malta that you think Slovenia could benefit from?
More smiles on people's faces when I approach them for assistance, for example at the shops. Some locals, in Ljubljana mostly, don't come across as too friendly.
Have you started to learn Slovene?
I'd never had the opportunity to be so frequently exposed to the language before I met my husband. The Slovenian language is nowhere near the languages I've been accustomed to hearing or using, which are English, Maltese, French, and Italian. Yes, Slovene has a few Italian words thrown in, but it still sounds completely foreign to me. However, I love a good challenge. I know that Slovene is extremely difficult to master, especially because of all the cases or 'skloni' that it has, but I'm on a mission to learn it well enough so that I can at least understand it, if not hold a decent conversation.
What methods are you using to learn it?
My in-laws are certainly helping me to increase my range of vocabulary (I have no option but to speak Slovene to certain members of my husband's family), and I also find the freely accessible Slovene Learning Online course slonline.si fun, engaging and extremely useful.
Where are some of your favourite places to visit here?
My favourite region is Primorska—the food there is not as rich or heavy and as in other parts of Slovenia. And I can also almost smell the salty, herb-infused Mediterranean air! The Slovenian coast is rather pretty with the Venetian-style streets and architecture. I have an endless list of places that I fell in love with in Slovenia, but I'll try mention a few that are closest to my heart: the Goriska Brda wine region; Slovenian Istria particularly Izola, Marezige and the romantic view from the wine fountain, and Strunjan; Jeruzalem in eastern Slovenia; Triglav National Park and the mountain town of Bovec; Tolmin, and Most na Soči.
What things frustrate you about life in Slovenia?
Skloni
What things delight you?
Food: veal stew, deer goulash, juicy Vipava struklji, potica...  and wine: particularly a delicious blend of Merlot, Cabernet Sauvignon, with the addition of sweet wine from dried grapes!
Do you think you'll stay in Slovenia for the rest of your life?
What I know for sure is that I'll be spending more and more time here in Slovenia than anywhere else.
Would you advise a friend to move to Slovenia?
I would recommend it, especially if they like hiking, pure nature, a wide variety of foods, and great wines.
What are some places you recommend
I'll be writing about various eateries that I've taken a fancy to in my blog, but there are some unforgettable hiking trails: to the top of Rašica hill from where you can admire views of Ljubljana and the surrounding areas and where Planinski dom Rašiške čete na Rašici serves up some delicious mountain hut food, Sveti Jošt nad Kranjem with its delightful Dom na Joštu, Tolmin gorge, Soteska Pekel (Hell Gorge) where you can even see Devil's tooth!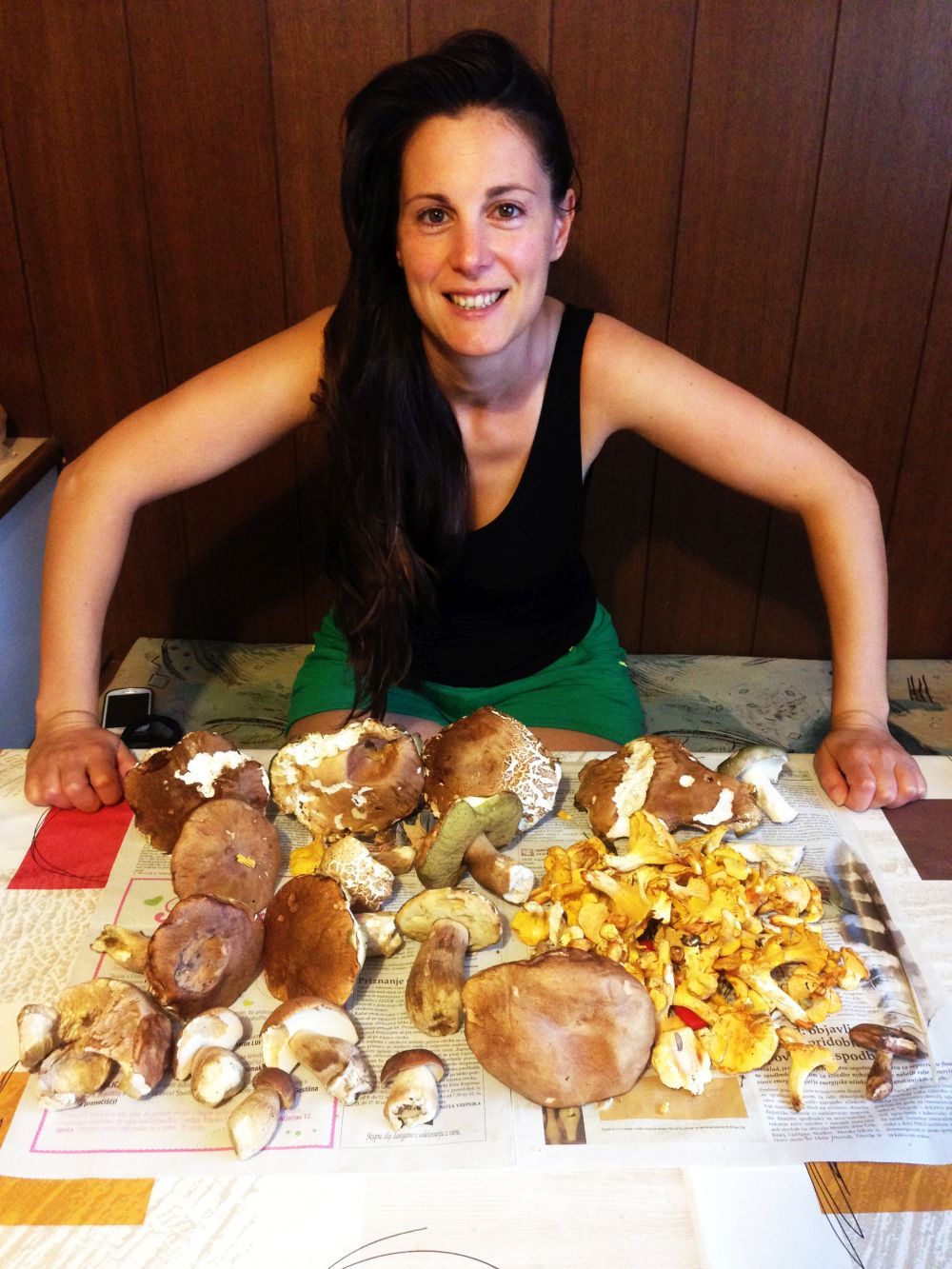 Successful porcini hunt

You can keep up with Denise as she continues to explore and write about Slovenia at Wine Dine Slovenia, and if you'd like to share your story with our readers, please get in touch at This email address is being protected from spambots. You need JavaScript enabled to view it..