Carlos Pascual is a Mexican writer who's made a home for himself in the Slovenian scene. We asked him about the business of being an independent writer in the country.
1. First and foremost, why Slovenia?
I'm part of the few foreigners in Slovenia that chose it with a full cultural intention. Most of the immigrants I know, expats or not, fell in love with a national some place abroad or here, or were sent by a company to some unknown country by the Julian Alps which is not Slovakia. My primary intention was to get to know a region I was always interested in (the former Yugoslavia) using Slovenia as a base of operations. But what was supposed to be a means have become almost an end
2. What do you do here?
I'm a writer, film and theatre-maker and an independent cultural producer, where independent is as important as cultural. As part of this cultural production, and aside my work as a writer here, I have founded a small (very small) independent cultural venue in the centre of Ljubljana called The Pocket Teater Studio.
The Pocket Teater is in a courtyard next to Trg francoske revolucije
3. What are some of the differences between your expectations of running a theatre in Slovenia and the reality.
My first intention with opening the Pocket, aside from the personal interest in having a place that could be my personal workshop space, was to offer the young generation of Slovenian theatre "enthusiasts" the chance of not depending on public policies to do their work. Public theatre in Slovenia (there is hardly any other) is restricted to actors who came out from the official Academy. So, if you are rejected by that, you have hardly any future in the theatre here. I wanted to help to change that, and open a third way to produce theatre. Neither the state sanctioned theatre, nor the commercially oriented one (which is pretty bad). But the young were not interested in my offer; they are too busy trying to infiltrate the system.
Carlos conducting a theatre workshop
4. What bureaucratic issues have you encountered and how did you overcome them?
On this I was surprised: compared to the personal residence issues that I had to deal at the beginning of my sojourn in Slovenia, the business paperwork has been a stroll in the park. Although I have to clarify that for residence purposes I had to open my SP which forces you to go through a couple of banking and institutional Mittleuropa-Balkan labyrinths. But aside from that, I have been left alone to do my thing.
5. How are your books, theatrical productions and so on perceived in the Slovenian market?
My literary work has been very generously appreciated. I don't have a single complaint there. I've been extensively published; I've been invited to the most important international literary festival in the country as a Mexican-Slovenian writer, I have published two books and will publish three next year, one of them in a very prestigious publishing house within their collection of Slovene Literature, while for the theatre circles, I don't exist. The theatre milieu is more enclosed. People are fighting fiercely for a public budget that is shrinking, and although I have been very clear that I am not looking for public subventions, most theatre people look at me with a combination of reserve and disbelief that I opened an independent theatrical place in Ljubljana. I would say that less than 5 per cent of the theatrical nomenklatura of Ljubljana have stepped beyond my outside door. And when they step in, they don't ask a single question; they normally don't even talk to me. That is pathological.
​Urška Centa during Noches de Tablao: Flamenco at the Pocket. Check Facebook for upcoming events
6. What were the opinions of your family, friends and community, were they supportive of your idea, or…?
Everybody in Slovenia thought it was a completely misguided idea. My Slovenian wife has the utmost respect now for my stubbornness. My family and friends in Mexico are used to my crazy projects.
7. What are some of the greatest challenges you have faced in business in Slovenia?
 The greatest challenge here has been to convince the audiences that they have to pay to see a good cultural product which is not being sanctioned by the cultural mandarins. But my audiences–and now the Pocket has a stable and faithful group of frequent visitors–are very glad to know that they will pay for highly crafted shows, be they theatrical, musical, poetical, etc., and that their tax money was not used to produce them without their being asked.
​Petra Govc, Daša Doberšek and Jure Kopušar in Suzana A
8. If you knew then what you know now, would you have come?
Oh, yes, definitely. Although it would have been helpful to know where I was going to be standing now, during the very difficult first two or three years.
9. What are some things you love about Slovenia?
I come from Mexico, so I will have to say that the first thing by far is the peaceful way of living, then, the natural beauty and the people. The people could drive you crazy (like in any place), but you end becoming very fond of them.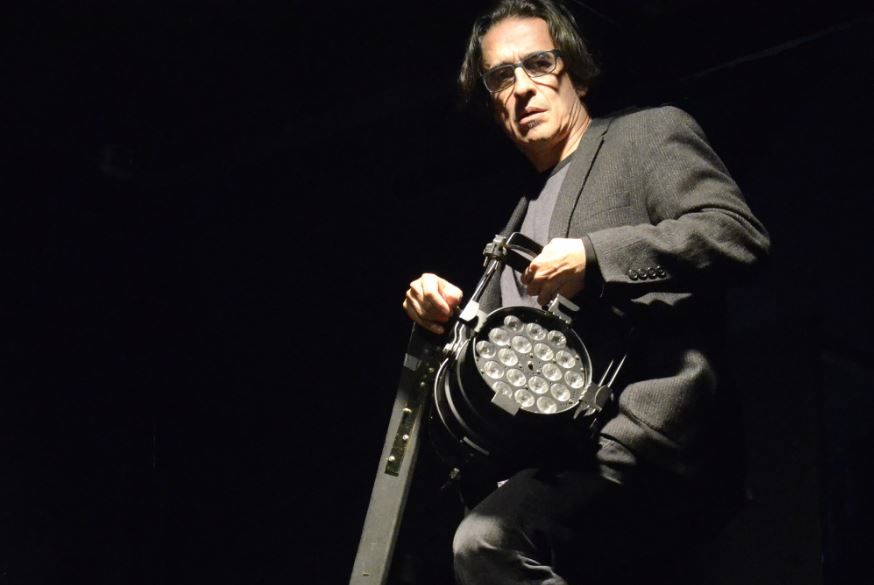 Setting up lights at the pocket
10. What are three things you would like to see improved in the business and cultural climate in Slovenia?
Less dependency on the government, less professional decisions taken out of friendship (or should I say, mafia-like, now for you and then for me) and more risk-taking.
11. How is it working with Slovenians in terms of a business mentality, and creatively?
I think it all depends in the area you work with them. I could imagine that they could be innovative in the IT area, but as a rule of thumb, I think it's difficult to bring them to think out of the box, even if that box is the idea of the avant-garde in the arts. Plus, I have been trying to work within a non-employer-employee structure, as co-responsible for my projects: almost impossible.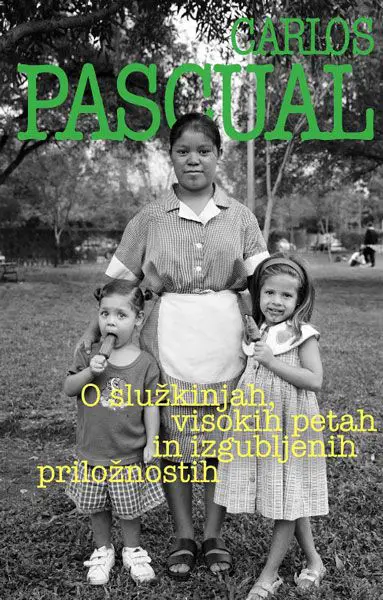 Carlos will deliver his books by bike, within reason
12. Any advice for foreign artists or others thinking of coming to Slovenia?
Come only if you have something secure, a solid idea for a business with secure back-up money or strong skills for independent survival. If you think you'll be received with open arms once Slovenians find out that you are coming to stay and work, you are a bit mislead, unless you are an international celebrity or bringing tons of money and employment offers as part of your agenda.
You can get in touch with Carlos about books, theatre or more, via his Facebook or website (the latter in Slovenian), and if you've got a story you'd like to share, please contact us at This email address is being protected from spambots. You need JavaScript enabled to view it.