Justin Young is from the UK, lives in Ljubljana, and runs a property company with two offices in the city, Slovenia Estates. The firm is in the real estate and renovations business. It focuses on foreign buyers coming to Slovenia, with clients from all over the world looking to purchase a property or for a holiday rental.
1. Why did you move to Slovenia?
It's a safe low crime country, excellent quality of life, great location geographically, with beautiful, friendly people…
2. Tell us about some of the differences between your expectations of running a business in Slovenia and the reality.
To be honest I can't really recall what my expectations were, as it's been nearly 12 years since we came.
3. What bureaucratic issues have you encountered and how did you overcome them?
Many, over the years. If Slovenia has a downside it's the bureaucracy, its extensive and in many cases totally unnecessary. It's important to have the right people to rely on to get your through the various areas, sometimes minefields of red tape. It's not something you can ever deal with by yourself, an accountant and lawyer are needed to ensure you comply with the regulations. Don't try to run your business without them or you can come unstuck very quickly. Budget for someone in your office to have time to deal with this red tape, as it often very time consuming.
Justin and the team
4. How is your product or business perceived in the Slovenian market?
We have been doing what we do for 12 years, we have been a popular addition to the real estate market here, as any seller or any competitor wishing to attract a foreign client has come to view us not as a threat but as tool for success. We have had wide media coverage here because of our niche market and what we do.
5. What were the opinions of your family, friends and community, were they supportive of your idea, or…?
Yes fully, it's always hard leaving friends and family behind, but for us we had a new young family and that was our priority. Everyone saw it the same way and were supportive.
6. What are some of the greatest challenges you have faced in business in Slovenia?
Earlier on language was sometimes an issue, we didn't and don't speak the language, but over the 12 years a new generation is now working and they pretty much all speak English, so it's very rare we come across people that we cannot communicate with. Bureaucracy was another one, very challenging. And trying to ski!
One of the properties on offer....
7. If you knew then, what you know now, would you have come?
Yes, for sure. It's a great life.
8. What are three things you love about Slovenia?
Its natural beauty, quality of life and the food.
9. What are three things you would like to see improved in the business climate in Slovenia?
Less red tape. More government help with understanding the rules and regulations. They will be happy to fine you if you do something wrong, but nowhere to go to get advice to ensure you are complying. Make it easier to employ people and most cost effective to do so.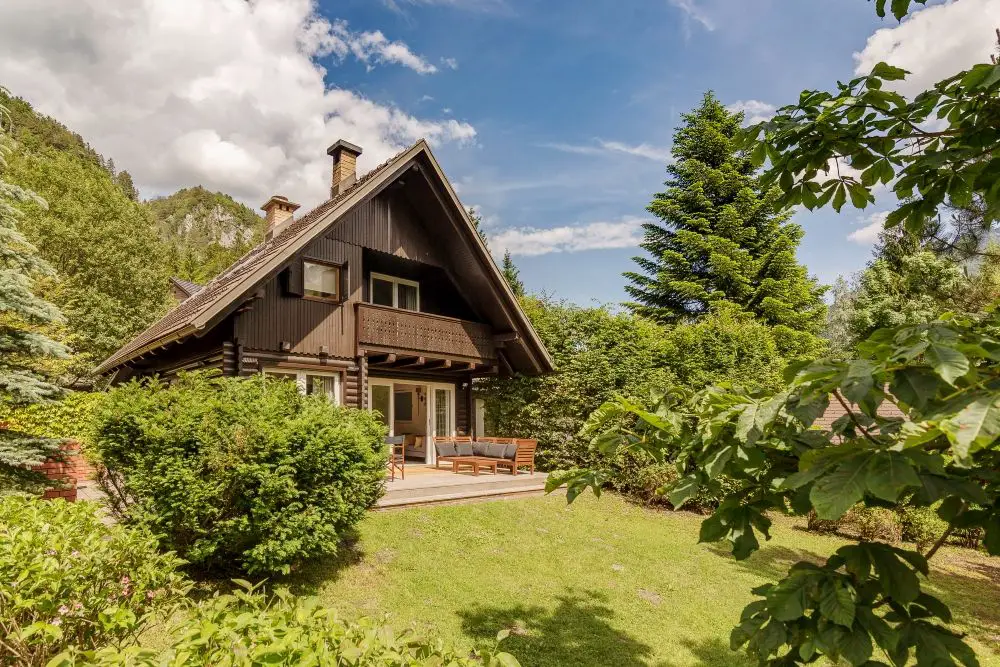 ...and another
10. How is it working with Slovenians in terms of a business mentality?
Generally fine, the older generation are rather mistrusting, so that can be hard sometimes. The younger generation is very entrepreneurial. They have a good work/life balance.
11. Advice for foreign entrepreneurs thinking of coming to Slovenia?
Don't assume you have something desperately needed in Slovenia. I have seen quite a few foreigners think that some product or service is lacking here only to find Slovenes have had the option and rejected it or have it already in a more accepted form. The population is highly educated. Don't think they are Eastern European and therefore inferior in any way, I have seen that attitude a few times and it's very wrong.
Slovenia Estates can be found online, on Facebook, and at Gornji Trg 1, in Ljubljana Old Town, and at Žabjak 2