Tell us something about yourself, who are you, what do you do, what brought you here?
I grew up in Switzerland, and after studying business administration I married my Hungarian husband.
We moved to Budapest and lived there for more than 13 years. We have two daughters, who are both at university now. When the children were 11 and 13 we moved to Zagreb, as my husband was transferred to the office in Zagreb.
The whole family loved living in Croatia and we spent happy five years there.
Two years ago we came to Ljubljana. Last summer our younger daughter finished her high school here and now my husband and I enjoy Ljubljana on our own.
In all the countries we lived I was an active member of a women`s club or another social club. To do volunteer work is part of my life, and I love to work with a nice team of friends.
SILA ladies visiting Isola
How did you get into this SILA story?
Living as a foreigner abroad you need a social network to find friends, even more if you live in a marriage with two nationalities. To find my circle of friends and maybe even some kind Swiss ladies is always a challenge in a new town.
So SILA in Ljubljana and other international women`s clubs elsewhere are an ideal place to start.
After we moved here in the summer I went to the first general meeting and met friendly ladies and immediately felt more at home.
From there it was a small step to get involved into the organization, as these clubs are built on voluntary work and taking part with my full heart helped me get settled here fast.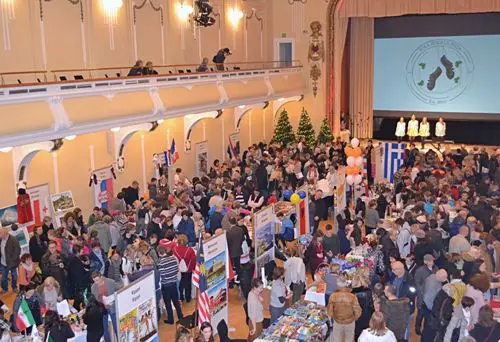 SILA Charity Bazaar
An event organized by SILA
Tell us something more about the activities of SILA, and what do you do?
SILA IWCL is a women's club open to all foreign ladies living here in Slovenia. We have two main lines of activities for our members. First, we offer a lot of events during the month to socialise and meet new friends. This can be a language group, a book group or an art class which takes place every week or month or a visit to a museum, exhibition, a day trip to an interesting place in Slovenia. Next to spending time with each other, getting to know our host country is an important part of the activities.
The other part of our work is charity. The best-known project in Slovenia is the SILA Bazaar. This year we will organize it for the 24th time, on Sunday, December 3 in the Hotel Union from 10:00 on.
At this bazaar people from more than 35 countries sell items and food from their home countries, and we will have a rich cultural program.
All the proceeds go to charity, with this year's focus being Children in Need. The countries chose four projects to help. The main project is for autistic children. If they get therapy early in their lives, then their chances of living a successful and fulfilling life are much greater. So two organizations, one in Ljubljana and one in Maribor, will teach these children and parents how to communicate so the autistic child is understood better.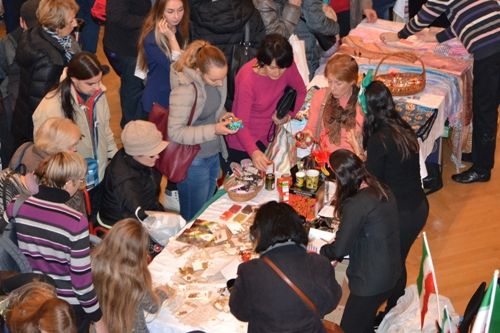 The motto of this year's bazaar was Children in need
What is special about SILA and why you would recommend it?
SILA offers you a home away from home. You come as a new member, are welcomed warmly and helped with your problems. Here you meet many ladies, who know how it feels to be new and face the challenges of new countries too.
The activities we do help you understand the host country better and are interesting; things you might not get to see otherwise. For example, two weeks ago we visited the excavation site on Gosposvetska ulica and they showed us the sarcophagi they found.


 Do you like living here?
I like it a lot. Living here is so easy. We live in the centre and walk to most of the places we visit, this is relaxing. There are a variety of restaurants and we get everything we need. And of course it is very safe. When my daughters go out at night, I am not afraid if they come back late.
At Jelenov Greben Restaurant next to Olinije Monastery
Where is a place you go to relax in Ljubljana, or what do you do to relax?
I like Špica, to sit by the water, watch out over the river and enjoy a drink is one of my favourite things to do.
Can you recommend a place to eat?
A family favourite is the EK bistro. The food is delicious and the ambience is casual and friendly.
What are some of your least favourite things about living here, anything you'd like to change?
One of the things we had to get used to is that many restaurants in the centre are closed on Sunday, and if you want to go for dinner on Friday or Saturday you better have a reservation. Otherwise it is a challenge to find a place. But we adapted.
What are some of the places a visitor to Ljubljana should not miss?
Last week my parents were here, and I brought them up to the Nebotičnik. The weather was good and the view gorgeous, especially due to the snowfall the previous day. They loved the view and the atmosphere of this coffee shop. One can un  derstand the layout of Ljubljana much better from high above.
With her older daughter at Roma cafe in Ljubljana
When you can get out of town, where do you like to go?
My husband and I like walking. On weekends we take walks in different parts of Slovenia. The walks in the different gorges are very lovely; my favourite is Vintgar Gorge, next to Bled.Velika planina is another great place to hike.The infrastructure is good as well in Slovenia, most places you hike to have well-kept paths and a mountain hut to stop for lunch.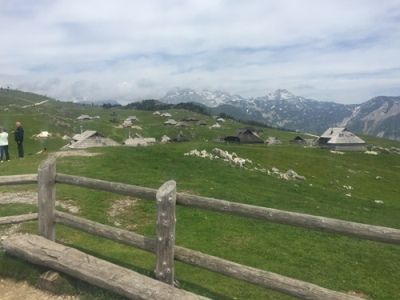 Velika Planina one of Ursula's favourite hiking destinations