February 12, 2018
Traditional Slovenian carnival food is basically deep fried carbs covered in sugar. Most of it is based on fermented dough, and only a krof is filled with jam. Miške and flancati are the other two shapes of deep fried fermented dough that contain no jam.
Miške (mice) and (soft) flancati frying at Gostilna Rožnik

There are two kinds of flancati, soft and brittle. Soft ones look like those in the picture above. The other kind are brittle, and these are our favourite. However, as we opted for the more traditional recipe which does not divide egg yolks from egg whites and uses two whole eggs, our flancati were not as brittle as they can get. This is a more practical approach, as you don't end up with four unused egg whites at the end of the process, and there is a bit less mess since the flancati do not break as easily. Nevertheless, the more brittle ones do taste better, so in case you go for this option, use four egg yolks instead of two whole eggs, and be sure to have a large plate to catch the crumbs when eating.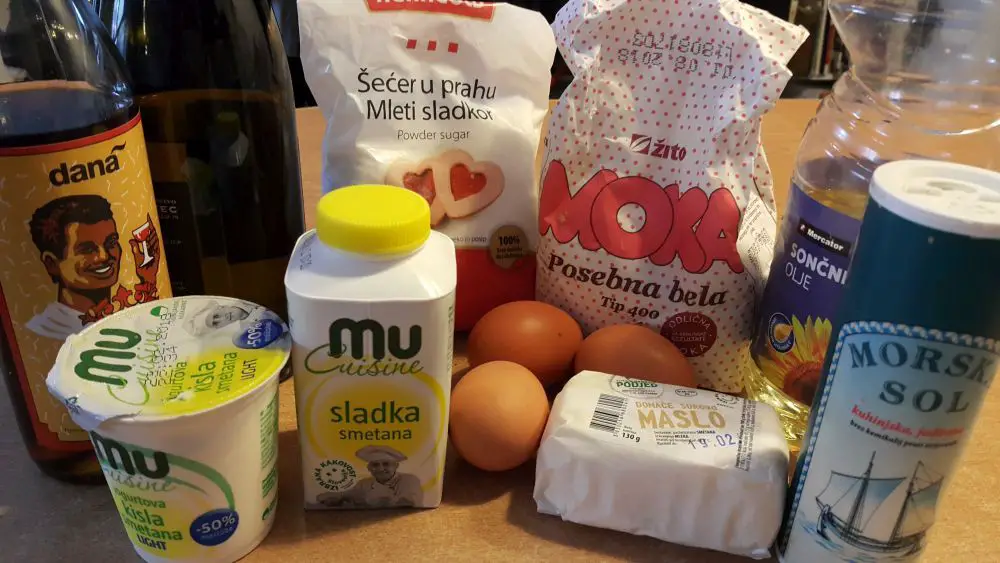 rum, white wine, sour cream (kisla smetana), fresh cream (eventually not used in this recipe), powdered sugar, wheat flour, white wine, eggs, butter, oil for frying, salt
Ingredients (for 16 – 20 flancati):
400g of wheat flour
40g of butter
30g of powdered sugar
3-4 tbs of sour cream (50-60 grams)
3 tbs of rum
2 eggs (or 4 yolks to make flancati more brittle)
2 tbs of white wine
pinch of salt
oil for frying
powdered sugar for the top
Everything but the frying oil and additional sugar for topping we knead into a smooth dough, which we put in two halves and leave to rest for 30 minutes. Then roll each half thinly (2 mm) and cut into rectangles with two additional cuts inside each one of them. Then fry them in hot oil till brownish, and cover with powdered sugar while still warm.
You might get a better idea of the entire process if you watch the video below:
Dober tek!