October 7, 2018
After our last recipe for plum dumplings we were left with a bag of the fruit, which eventually softened to the point they couldn't be eaten fresh, although no rot had yet occurred.
So it was thus time to make some pekmez for pancakes. Or even better, pekmez to serve with a roast.
Pekmez is a Turkish word for a highly reduced syrup, but in the Balkans this term has always been used to describe a plum jam that has been cooked for a very long time, until the plums turn into a thick, dark paste. Often no sugar is added, so that the paste can be pretty much used as a jam or served with meat, much like a cranberry sauce in a an American Thanksgiving dinner.
So as the hunting season for mallard and pheasants began on September 1st, we headed to our usual game butcher at Ljubljana Central Marketplace, to inspect what he has on offer. (Mr. Meglen also sells his products in other locations across Slovenia, for details, please click here)
We were told that no mallard is available at the shop, ever, so we took one pheasant from a freezer, which cost us about 14 EUR per kilo, which is exactly the weight of the bird we took home.
This is our plan: we'll roast the pheasant with some seasonal vegetables and serve it with some plum pekmez and green salad.
But first we'll have to prepare our pekmez sauce.
For pekmez we'll need a pot of destoned plums and juice of one lemon.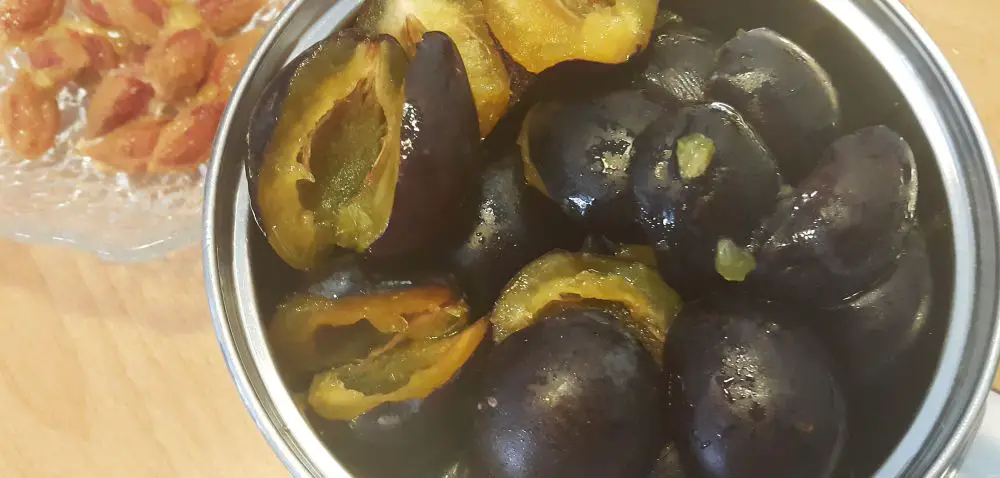 Add a little bit of water so that plums don't stick to the pot during the initial heating and before releasing their own juice, and place on the stove.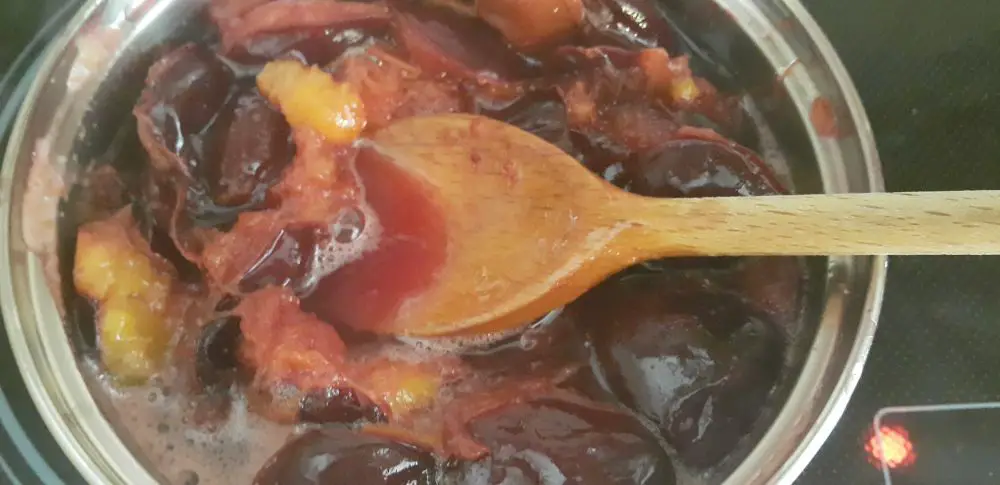 After ½ - 1 hour of cooking, you will have to start stirring the jam. We cooked it for about 3 hours on and off, before adding the lemon juice, then reduced it for about another 40 minutes.
When all the plum peel and meat dissolves into a more or less creamy texture, our pekmez is done and can be jarred. As it contains no sugar, pekmez should be kept in a fridge and consumed within no more than two weeks.
Back to the pheasant.
Ingredients:
seasonal vegetables (potatoes, cherry tomatoes, zucchini, Hokkaido pumpkin, garlic cloves, etc.)
olive oil, rosemary and salt (for the vegetables)
1 whole pheasant
salt
pepper
tinfoil
1 chunk of butter
Wash the pheasant if you find it necessary – we did – and dray it before placing it on a large piece of tinfoil. Rub in some salt and pepper, and while doing so check for any shot that might have remained in its body.
A shot wound, but no shot inside.
It stopped just under the skin on the other side.
A shot in a size of a pepper grain. Watch out for them while eating as well.
Then wrap the pheasant in the tin foil, place it in a pan and put it in the oven for about an hour. Meanwhile peel the potatoes, cut the rest of the vegetables, add some olive oil, salt and rosemary then place it in the same oven about half an hour after the pheasant.
After about an hour take the pheasant out, unwrap it, grease its surface with some butter and place it uncovered back in the oven for another 10 – 15 minutes so that the skin turns brownish and crispy.
In these 15 minutes some more juices will be released which can, together with melted butter, be used as a gravy.
Keep in mind that the meat on the legs, wings (tiny) and back contain much more flavour than the breast, which can be very lean and dry.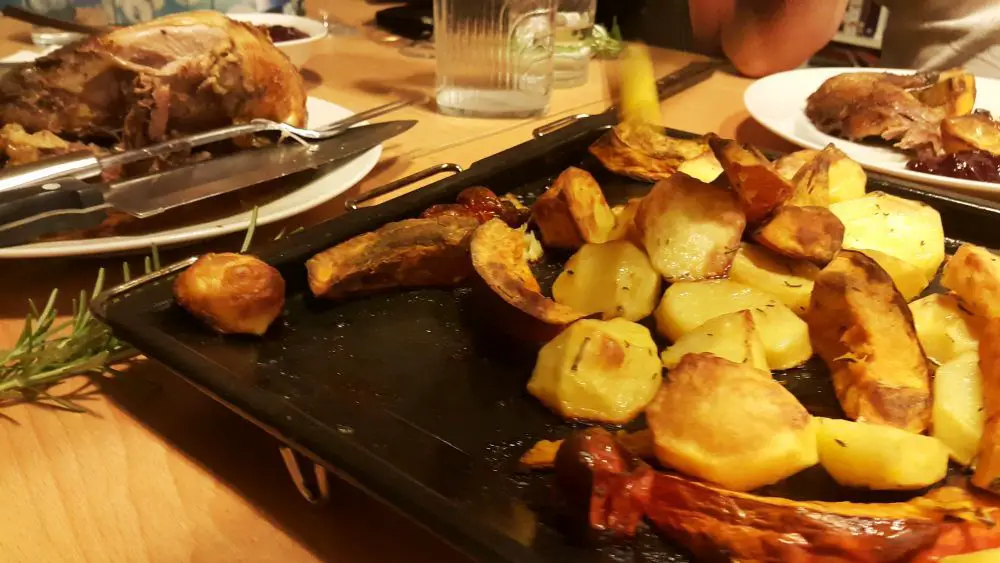 Dober tek!