July 30, 2018
This week we take some time off from full dishes to look into a simple detail that should be presented with every fish in the northern Adriatic: a teaspoon of chopped garlic and parsley, soaked in olive oil, also known as tržaška omaka (Triest sauce).
As always with simple dishes the key thing is that the ingredients are fresh and high quality. The latter is especially important when it comes to the olive oil – we got lucky by getting a bottle of the freshly sqeezed stuff from a friend of a friend the other day. While it's OK to get a bottle in a store, if you want to eat really well then, you might want to establish some social links with the agrarian Slovenia that's all over the country.
This simple sauce takes about 5 minutes to make, and can be served with a fish or even spread around its insides before it's put in a pan.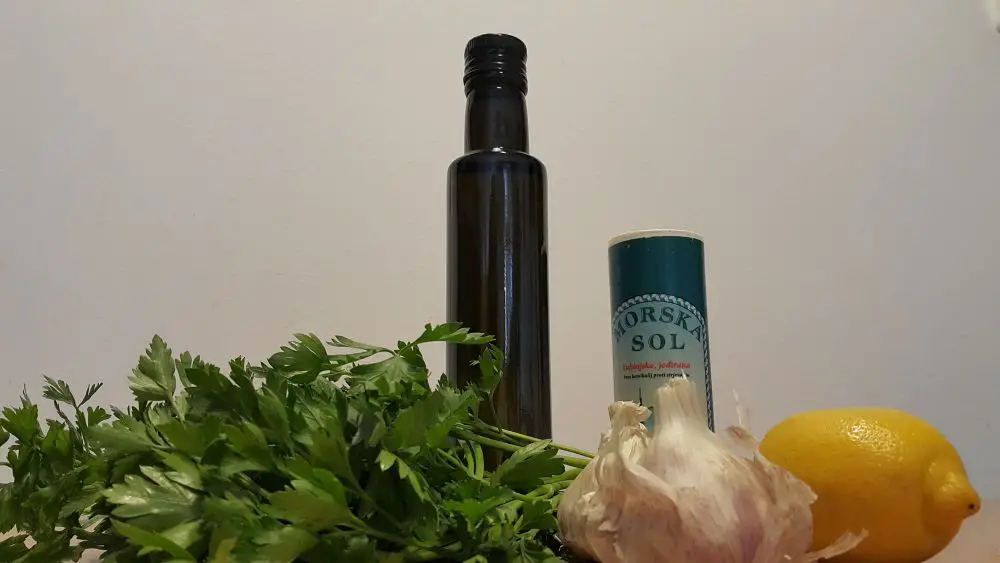 Ingredients:
4-5 cloves of garlic
1 bunch of fresh parsley
Olive oil
1 teaspoon of lemon juice
Salt
Chop up the garlic and parsley, add salt, lemon juice and olive oil, let it soak a little, and the sauce is ready to be served.

The fish in the background is patarača (scaldfish), a flat fish similar to the common sole (Solea solea). Easy to fillet, easy to prepare, and very tasty. Very much recommended.