July 10, 2018
Every dish begins with choosing the right ingredients, and an ingredient that is too often taken without much consideration when making rižota (ITA: risotto) is rice.
There are two main varietal groups of rice, the long grain Indica and short grain Japonica, both originating from about eight thousand years ago in China. It is interesting to note that the delicate long grain basmati does not in fact originate from the long grain Indica, but is genetically much closer to the short grain Japonica variety.
It is in fact quite important which kind of rice we use in what sort of dishes. The main goal in cooking rice is to keep the grains separated and in one piece, or else we just make porridge instead, and no need to bother with rice at all.
The first rule of preparing rice is thus to wash it thoroughly to remove any free floating starch.
The second thing to keep in mind is that delicate long grain rice doesn't stand much mechanical treatment, such as prolonged stirring or shaping the rice into sushi balls. The grains would break apart and turn into a blob of starch. This is why basmati and other delicate rice varieties are usually cooked almost untouched and served as a side dish to South and Southeast Asian curries. For sushi as well as rižota we thus have to use short grain rice, which will easily survive the preparation process in one piece.

Basmati, Long grain Indica, and short grain Japonica, as available in almost every Slovenian store
Although rižota is a one pot dish, we nevertheless decided to prepare it in two separate pots with rice and vegetables in one and the seafood in the other. We did this because clams (or mussels), shrimp and squid are best cooked for a shorter period of time, while vegetables cook longer and are better suited to be cooked together with rice. We did use a small octopus as well, but we don't recommend it to be used in this dish, as it needs more preparation than the rest of the seafood we used – it turned out a bit chewy, so although you can see it in the pictures, we took it out of this recipe.
Ingredients:
½ kg short grain rice
olive oil
1 bunch of young onions with leaves
1 courgette
5 young carrots
3-5 tomatoes
4 dl of dry white wine
Salt
4 cloves of garlic
1 bunch of shrimps
1 package of clams or muscles
5 – 8 small squid (cleaned)
1 dl passata (tomato paste)
parsley
We wash the rice first and prepare the same amount of water as there is rice for cooking later on.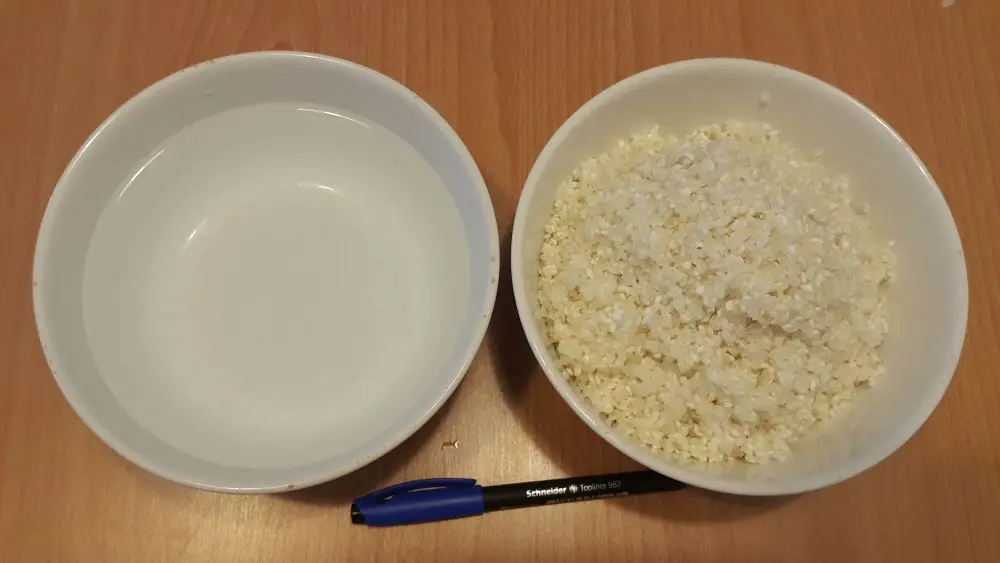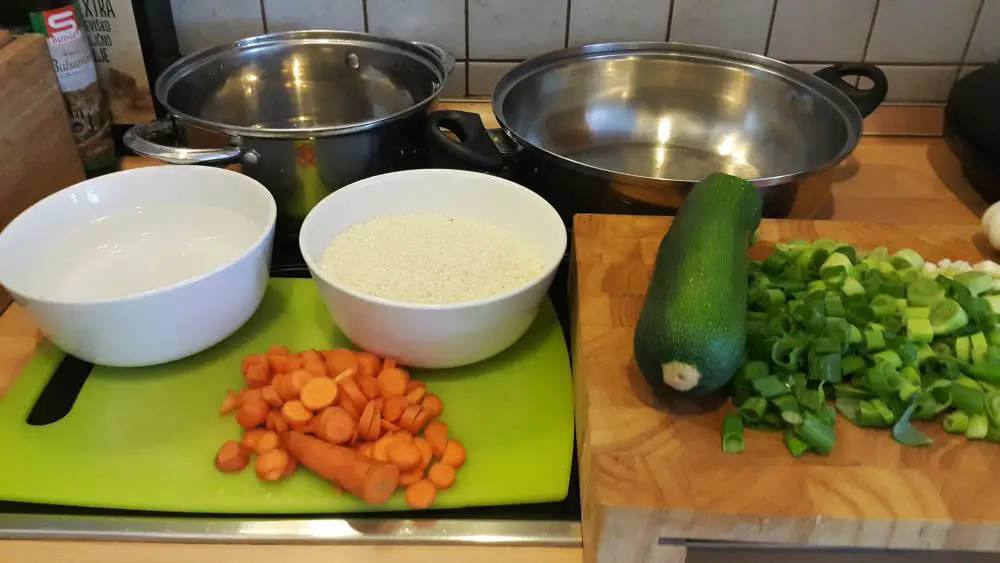 Get the pots ready and prepare the vegetables. Preheat (not burn) some olive oil, add ¾ of the chopped young onions, diced courgette and carrots. Save the remaining ¼ of onions and all of the garlic for the sea fruits.
Stir fry the vegetables for about 5 minutes, add diced tomatoes, salt and about 1 dl of wine. Let simmer so that the alcohol evaporates, then add the water that was prepared for the rice cooking, some more salt (monitor the salt levels from time to time) and stir in the rice.
Wait till it starts boiling then reduce the heat and cover. Cook for about 13 minutes, take off the stove. Keep it covered.
Almost done
Meanwhile remove the broken clams and those that are still open and don't react to touch. Sometimes, if very fresh they remain open but start closing if you knock on them. Shell fish then need to be washed, shrimp as well. Inspect the squid if any more cleaning needs to be done (sometimes there is some cartilage left inside the body), then cut into about 2 cm wide rings.
Heat the olive oil in your pan, add chopped garlic and the remaining onions, add the clams, shrimp and squid. Stir fry until the clams start opening. Add the remaining wine and some salt and let simmer for about 5 minutes until the alcohol evaporates. Add the tomato paste and simmer for a few minutes longer.

Mix the rice into the sea fruits along with their sauce and sprinkle some parsley on top.
Dober tek!