June 9, 2018
In Slovenia hunting is done exclusively within the framework of the Hunters Association, and according to clear rules on when, how many and which animal species are to be taken out every year.
The beginning of the hunting season for young deer of both sexes began on May 1st. Sexually mature female deer (does) are not allowed to be hunted in spring, as May and June are the main months when these give birth and take care of their babies.
Venison is available in stores with links to the various hunting clubs, and sometimes game even reaches shelves of large supermarket chains like Mercator or Spar since some of the large wild animals escaped the threat of the extinction in the 20th century and managed to multiply to the point of causing serious economic problems in the pastures, orchards and gardens. So no need for guilty feelings on this front at the moment if you happen to be eating a piece of mouflon or a bear.
We got our venison in a horse meat shop about three stores away from the Dragon Bridge in the arcades of the central market place in Ljubljana. The shop, marked with a horse head silhouette, offers some sorts of game on a regular basis and also takes specific orders such as boar suckling when the time is appropriate. For our boneless deer thigh we paid about 25 EUR per kilo.
Horse (and game) meat shop at Ljubljana central marketplace
Venison, as pretty much goes with all game, is a very lean and super healthy meat that needs to be handled carefully to fulfil its gourmet potential.
Compared to beef, venison is low in fat and calories and high in protein. Venison is also higher in riboflavin, niacin, B6 and B12, iron but contains slightly less phosphorous, potassium and zinc.
The main problem from the gourmet side of the story is in the lack of fat, which has been traditionally addressed by wrapping or piercing the meat with bacon. We decided to stay away from pork and look for other solutions, especially red wine, sour cream and herbs.
An important element that is not part of the recipe is that our venison was served with tarragon dumplings, which worked just perfectly. We would therefore suggest, in case you were to serve the meat with baked potatoes, to add some tarragon (leaves) straight to the sauce while still simmering to develop some flavour before serving.
Ingredients: olive oil is missing from the picture, we also decided not to use the apple
Ingredients
2 table spoons olive oil
1 1/5 kg deer thigh
5 carrots
1 parsley root
1 celery root
1 big onion
3 garlic cloves
6 juniper berries (crushed)
1 teaspoon of coriander (crushed)
1 teaspoon of black pepper (crushed)
1 teaspoon of rosemary
1 teaspoon of summer savoury
2 teaspoons of thyme
Salt (to taste)
4 dl red wine (Refošk)
Chopped tarragon (optional)
3-5 dl sour cream (to taste)
We crush the juniper berries, coriander and black pepper.
Mix in rosemary, thyme and summer savoury, chopped garlic and onion and spread it over the meat.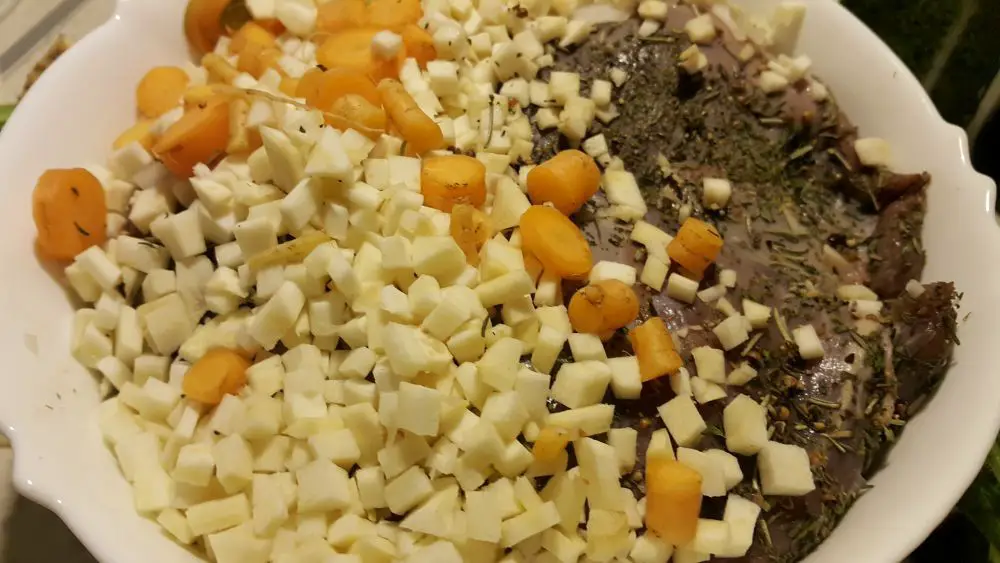 Chop the root vegetables and cover the meat with these as well. Cover with a pan lid or a plate and let it all rest for an hour. If your meat is very fresh, press it down with a heavy object (in the picture we use a jug) and leave it to rest for a couple of days (in refrigerator), but turn it around in the bowl twice a day.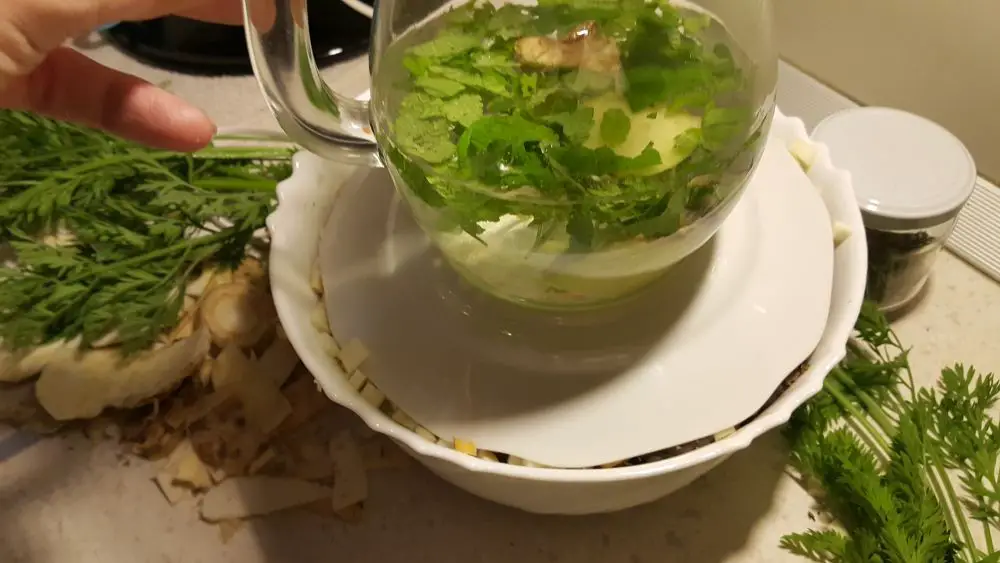 Put olive oil in your cooking pot, take your meat out of the vegetables and fry it on both sides for a few minutes.
Then add vegetables, salt and a glass of water. Cover and let it simmer for about half an hour. Then start adding wine, decilitre by decilitre.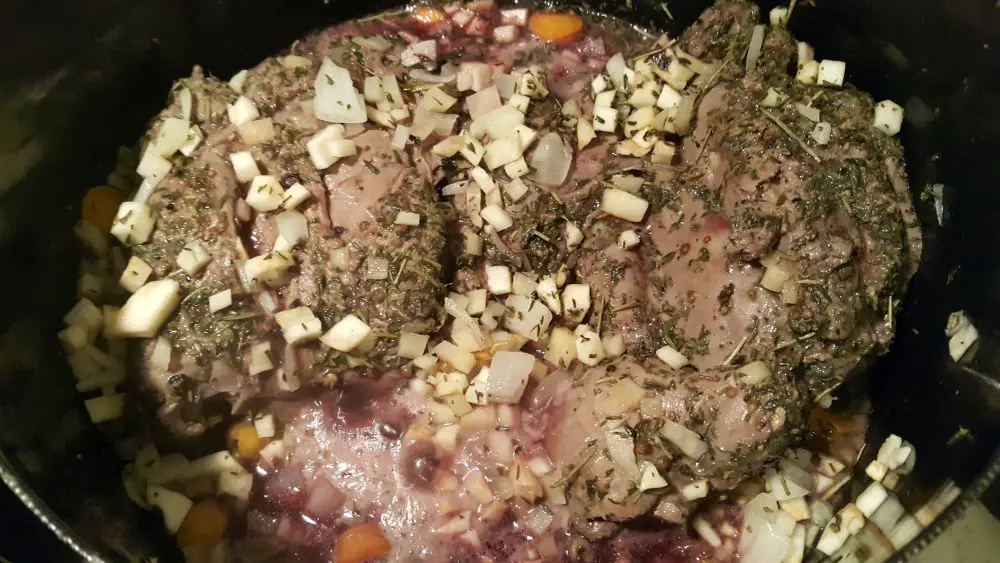 Pour in the remaining wine and cover. Keep it simmering at low temperature for 2 – 3 hours. Since we used Refošk, which is quite strong in colour, the whole thing eventually turned quite black:
Apart from some small softer chunks, the meat stayed in one piece and did not disintegrate, which would otherwise happen to beef or lamb. So we took it out of the pot and sliced into steaks.
As we were about to serve it with tarragon cottage cheese dumplings (štruklji), we did not add any tarragon to the sauce. Otherwise we would have added some and cooked it a little before serving.
For the gravy, we followed an instruction to blend together the sauce the meat was cooked in with sour cream. That is what you can see in the picture, but frankly, we preferred the way it looked if simply stirring the sour cream into the gravy and leaving the vegetables in chunks.
As already mentioned, venison is quite lean and thus it is nice to have a lot of sauce to go with it, so don't be modest with your gravy production. Serve with lots of it.
Use fresh parsley for decoration.
Dober tek!