Slovenia has three wine regions. Podravje (the Drava Region), to the northeast; Posavje (the Sava Region) in the southeast; and Primorje (the Littoral), in the west, by the coast and Italy, including the famed Goriška Brda. The country also has seven native wine varieties: ranfol, žametna črnina (aka Blauer Kölner), rumeni plavec, zelen, pinela, vitovska grganja and rebula.
But I didn't know that before I attended this event, organised by WineTasting Ljubljana. Or if I once did, briefly while the words flashed before my eyes or rung in my ears, then I forget. I only know it now because I took notes.
I am not, to be honest, much a of wine person. I like a few glasses when it's offered with food, and I'm pretty open to the flavours, although my preference is for white – it doesn't stain my mouth – and for sparkling wine (penina) whenever possible, because I like cold drinks with bubbles.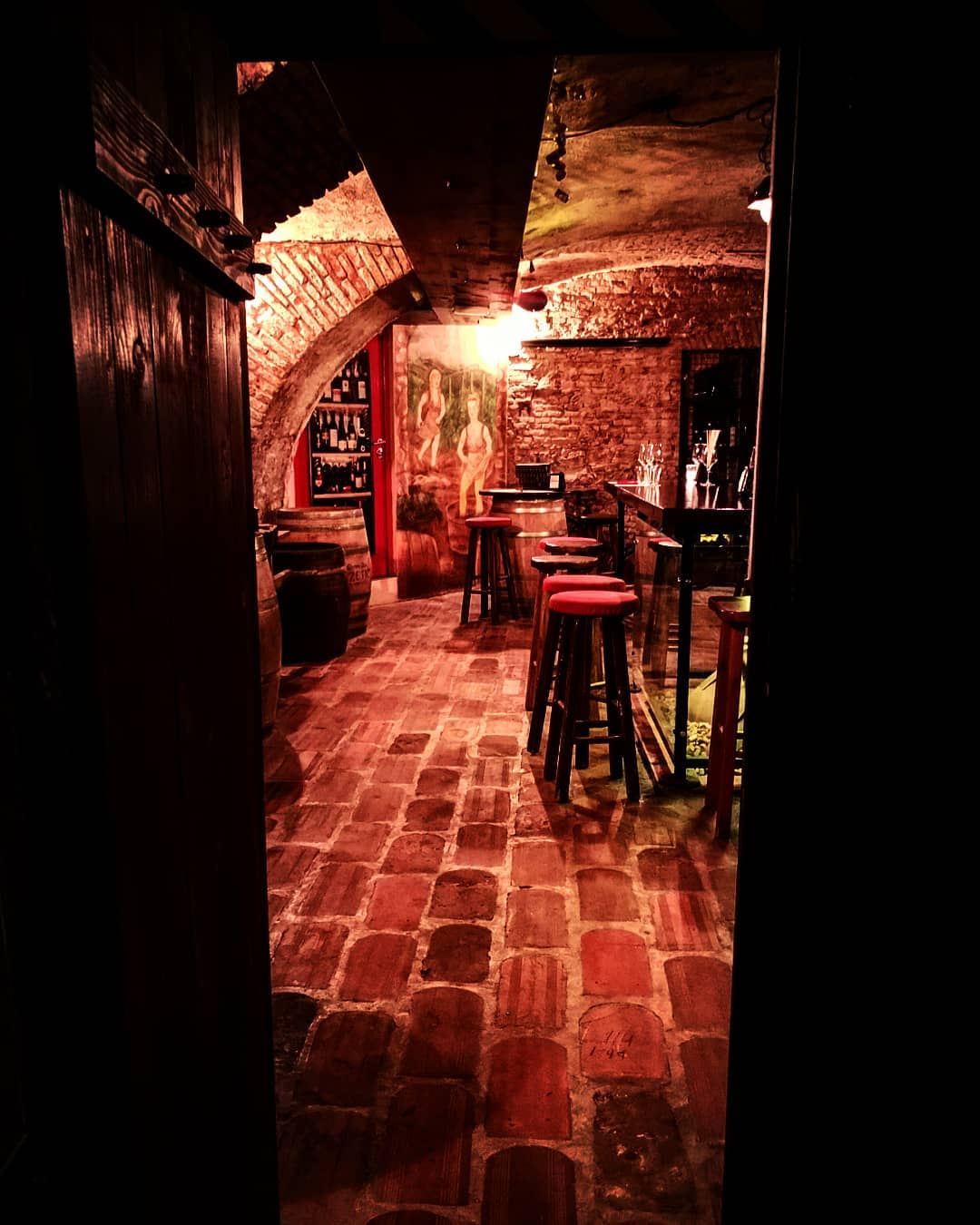 The wine celler under Dvorni Bar
A Slovenian wine tasting holiday in one evening
So in some ways I'm the ideal person for the wine tastings offered each evening by Wine Tasting Ljubljana. These don't take you deep into one variety, but instead offer a tour of the country's viticulture in seven glasses, one for each of the native varieties, with your guide (in my case the sommelier Boris Vukobrat), talking your through the experience.
Or as Boris put it: "You will drink, I will tell you stories."
Boris - "The problem with Slovenian wine isn't quality, it's quantity. We don't really produce enough to export, so the best place to drink it is Slovenia."
The tastings take place in a 300-year old wine cellar beneath Dvorni Bar, just off Kongresni trg / Zvezda Park, and last for about 90 minutes. Whatever the weather outside, down in the cellar it's cool and dim, with low lighting and candles giving the event a sense of occasion. There's a map on the wall that Boris uses to show where the bottles come from, and some snacks on the table – cheese, olives, dried fruit, nuts, and pumpkin oil – to complement the wines, along some water and bread to cleanse the palate.
Boris knows his stuff, and also runs the same events in Bled, so I learned a lot. The evening starts with a light white, rebula, the kind of that's dangerous because the low acidity means you can easily drink too much. It then moves to heavier whites, through a surprise wine (which we taste blindfolded), then into heavier reds, and ends with a dessert wine.
When each is poured, but before you drink it, Boris explains the some of the history and present of the wine, it's relationship with the land, what to look out for when sampling it, and some suggested food pairings. You take your time and hold the glass up the light, swirl it around to see "the legs", inhale the aromas – if there's no vanilla, it was stored in steel; if there's vanilla then in oak; if it smells like petrol then you're drinking Riesling (one hopes). You'll also learn some practical tips, perhaps the most important being that a low sulphur content means less risk of a hangover.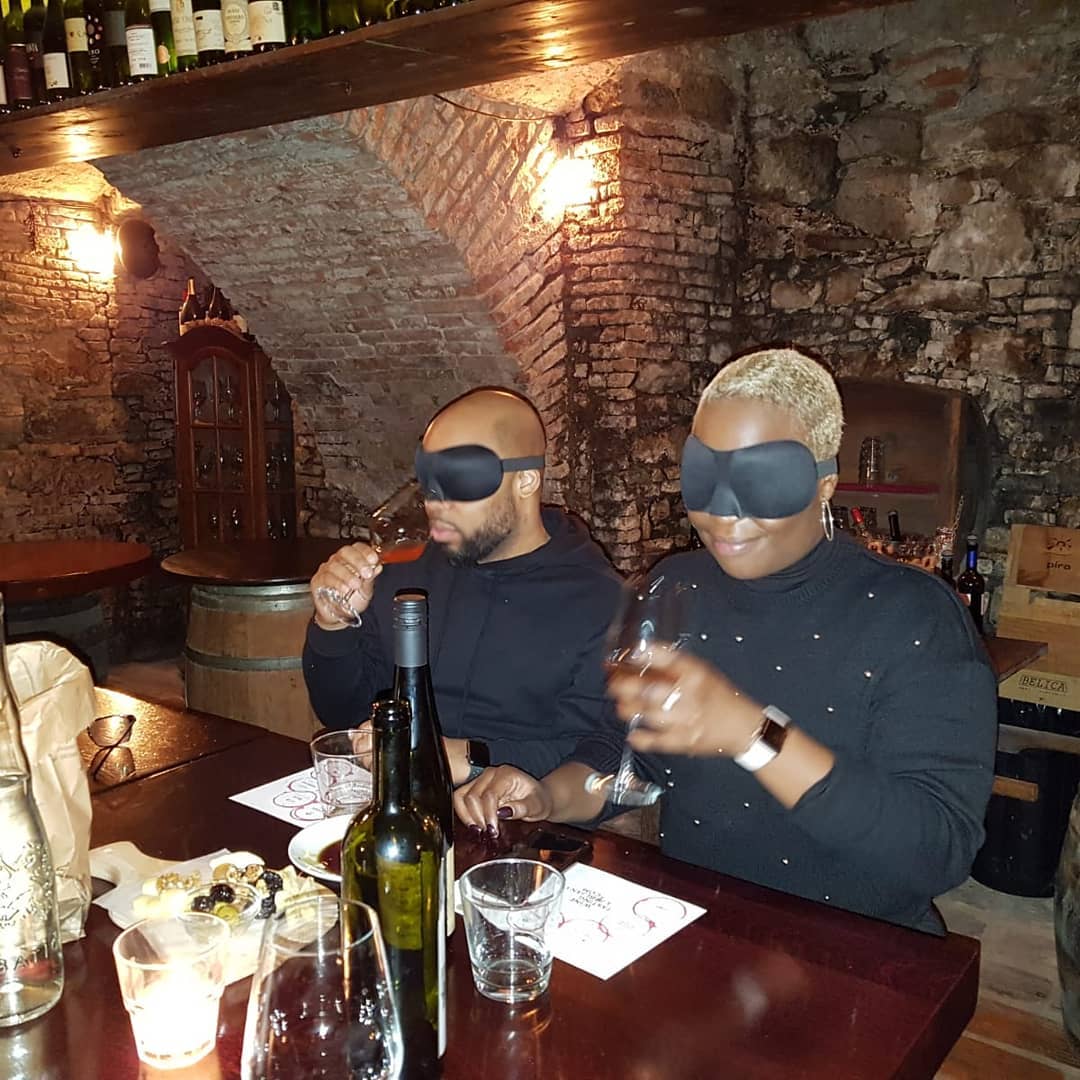 If you're like me, and tend to drink too fast, anxious to find whatever magic is hiding at the bottom of a bottle, then the experience is a novel and enjoyable one. It's nice to take things slow and have your hand held, to have someone help you stop and smell the flowers, vanilla, grapefruit, blackcurrant, lychee or gasoline, with one part of the tasting being a round of smelling certain concentrated aromas and trying to guess what they are. Being told the story of the wine and what to look out for before sampling it also primes you to be more attentive, to savour each inhalation or sip – to get more out of wine, and thus more out of life.
The glasses aren't full pours, and you're unlikely to get drunk, but if attending a 17:00 tasting you'll leave at around 18:30 with a pleasant warmth, more joy and greater enthusiasm, making this a great start to a longer evening of fun. You'll also have been taken on a short tour Slovenian wine varieties and regions without having to leave the centre of Ljubljana, and be able to order a glass or a bottle with more confidence.
To that end, Dvorni Bar itself, where the cellar and tastings are located, is a great place to carry out more in-depth research, with hundreds if not thousands of bottles. (I had a tiny after-wedding party there, spent over €400 and remember nothing but my wife's name, but next time I'll take notes.)
You can book a your place with Wine Tasting Ljubljana on the website, by This email address is being protected from spambots. You need JavaScript enabled to view it.or phone (00386 41 90 50 70), and if you're staying in Bled the same group does a similar event there (details)
All our stories on wine in Slovenia can be found here