June 11 , 2018
In our article on underground waste collection sites we looked into the waste management system downtown Ljubljana in ways that can be broadly applied to the systems of other Slovenian municipalities.
In this article we will look into those sorts of trash that don't belong in any of the regular categories of municipal waste or items meant for recycling.
These are bulky waste, electrical and electronic equipment, hazardous household waste, and other special waste. There are several waste collection sites where this kind of thing can be taken by either yourself, or Snaga can be called to pick it up from a previously agreed site.
Bulky waste
Bulky waste includes furniture, carpeting, bathroom fittings, mattresses and lamps. It does not include windows and doors, construction waste, electrical and electronic equipment, or tyres.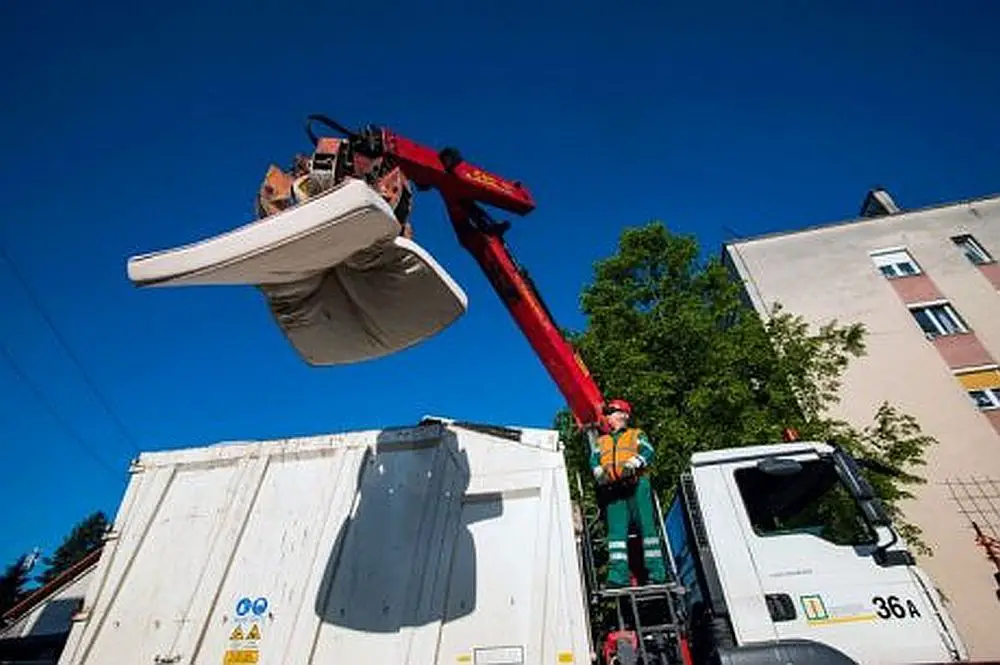 Photo: Snaga
Users of the Snaga service are entitled to the free removal of bulky waste once a year. Waste removal must be ordered in advance. Click here for the application form.

After the bulky waste removal date is set, the waste should be placed at the designated location on the day of the removal. In case you have already used the free removal option, you can either take the waste to the collection site yourself (see the addresses below) or call Snaga to do it for a fee.
Waste electrical and electronic equipment
Large and small domestic appliances, TV and computer screens, IT and telecommunications equipment, leisure electronics, electric and electronic tools, electrical devices for body care, etc.
If you are replacing your old washing machine, refrigerator, etc. with a new one, then the old one must be taken away by the merchants that sold the new appliance to you. Alternatively, you can take old TV sets or dishwashers to the nearest waste collection centre (listed below).
Hazardous household waste
The hazardous household waste includes batteries (including car batteries), paints and solvents, chemicals, oils and fats, pesticides, medicinal products, neon tubes and other products labelled with a symbol for hazardous substances and their packaging.

Hazardous waste is accepted at the waste collection sites such as Snaga Headquarters, at Povšetova ulica 2 in Ljubljana, every business day between 09:00 and 13:00.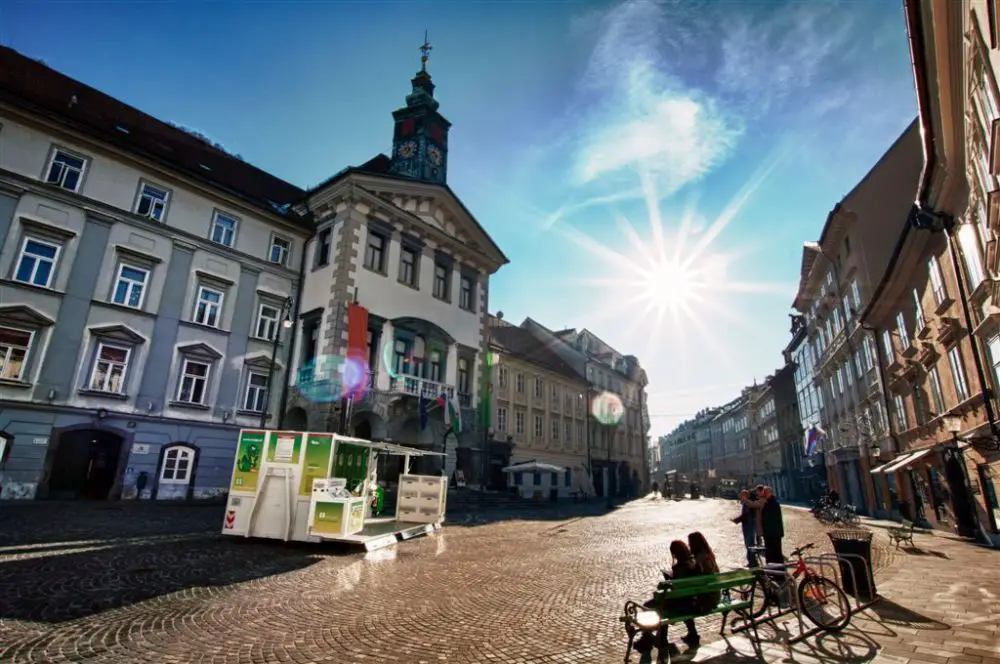 Mobile hazardous waste collection unit in front of Ljubljana City Hall. Photo: Snaga
A mobile container unit has been available to residents of Ljubljana, where hazardous household waste and small electronic and electrical items can be disposed in spring and fall, since 2010. For the timetable and locations please click here.

Special waste
Special waste includes several types of waste with special legislation that stipulates appropriate handling of each kind of them separately. These include construction waste, spent automobile tyres, automobiles, and asbestos waste.
Automobile tyres at Povšetova collection site, Ljubljana
Spent tires are usually taken by the garage (vulkanizer) that will replace them, or you can take them to a waste collection centre.
Vehicles that are at the end of their lives will not be accepted at waste collection centres. Instead they should be brought to special vehicle collection sites by their owners, who should also bring a proof of ownership with them. Close to the city of Ljubljana are, for example, Špan at Brezovica pri Ljubljani or Avtotransport Kastelec in Grosuplje. The handover of a vehicle is free of charge, and the owner receives the certificate that is required for the vehicle to be deregistered with the authorities.
Asbestos containing products include roof shingles, pipe covering, various insulation materials, drywall, siding, and cement compounds.
Residents can dispose of small amounts of asbestos containing waste at Barje Collection Centre. Such waste has to be sealed in plastic bags or foil so that asbestos fibres cannot escape into the environment.
List of Snaga Collection Centres.
Temporary Collection Centre Povšetova 2, 1000 Ljubljana
Collection Centre Barje, cesta dveh cesarjev 101, 1000 Ljubljana
Temporary Collection Centre Brezovica, Kamnik pod Krimom 6, 1352 Preserje
Temporary Collection Centre Vodice, Vodice water treatment facility (Čistilna naprava Vodice)
Temporary Collection Centre Medvode, Cesta komandanta Staneta, DONIT yardside

Temporary Collection Centre Ig, by Matena water treatment facility, Ig
Temporary Collection Centre Škofljica, by the Reber village
Temporary Collection Centre Velike Lašče, Behind the Dom Krajanov Turjak
Collection Centre Cerklje na Gorenjskem, by the Firefighters HQ in Cerklje