February 16, 2018
Sato Bento, one of the most authentic Asian restaurants in Ljubljana, does not seem to care much about tourism and its spoils. This becomes very clear when standing in front of the building, called the Ledina center, inside which hides this little Japanese restaurant. In case you think you've gone to the wrong place, then just know that the Ledina Center looks like a slightly flawed idea of what a shopping mall might be, perhaps conceived in the last days of the planned economy in socialist Yugoslavia. Small shops and businesses are hidden in the corners of luxuriously bright halls with miserly low ceilings, with some empty units and a big portion of the building taken by the Ministry of Economic Development and Technology. Overall, the Ledina Center doesn't seem to tell a story of success, with large amounts of misplaced effort sensed in the air.
Ironically, however, this environment seems to work quite well for the Zen-like atmosphere of Sato Bento, with increasing numbers of the surrounding workforce coming for their daily dose of meditation on the restaurant's humble perfection.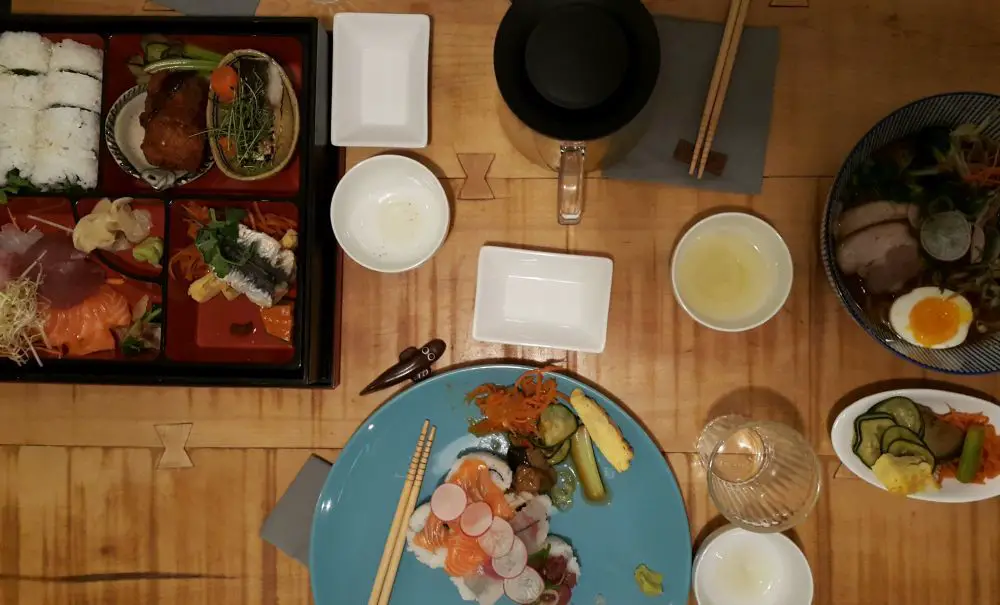 Lunch table for three, from left to right: shokado bento, chirashi sushi (small), ramen
Besides being a trained chef, Mr. Shin Sato is also a trained painter, evidence of which can be found not just on your plate but pretty much all over the restaurant, which Mr. Sato built and decorated himself, from scratch, just like he prepares his food, right next to his guests, with only a bar dividing the dining area from the skilled hands of the chef and his team of apprentices.
The minimalism of Japanese cuisine involves certain precision that shouldn't be messed with. The best example of this is perhaps in the preparation of sushi rice, where washing, cooking and seasoning takes up to five years of training, and which also involves carefully guarded house secrets. Still, a customer does not need special training or much history of eating sushi to differentiate between properly prepared rice and that which has been sloppily done. All one needs is to get used to a certain standard, and standards are set high in Sato Bento, especially for Ljubljana, where you can find Japanese restaurants run by Chinese chefs, with results that are often confusing.
During lunch time the restaurant offers three-course meals which include soup, dessert and chirashi sushi, shokado bento or vegetarian sushi for the main dish. Every week a new dish is introduced to the lunch menu, such as ramen or hanbagu (hamburger style Japanese steak), which was available this week. Follow Sato Bento on its Facebook site and find out when your favourite, old or new, is coming to the menu.
Hanbagu
Examples of lunch descriptions (bilingual)
Sato Bento is located on the ground floor of the Ledina Center, Kotnikova 5. Opening hours are from 11:00 to 17:00 on workdays. From Tuesday to Friday it is possible to make a reservation for an Omakase dinner, which is a slow food preparation with 4–6 courses of the chef's choice, with the latest reservations being for 21:00. Bento, which are Japanese lunch boxes, can be ordered to go on weekdays, home delivery (orders made via ehrana.si) is possible between 11:00 and 19:00, and the place is closed on Saturdays, Sundays and holidays .
Reservations can be made via email.