May 6, 2018
While people living in the "continental" part of Slovenia are collecting spruce tips and ramsons these days, the asparagus hunters in Istria, Karst and Vipava valley crawl through the bushes in search for green asparagus (šparglji).
Green (wild) asparagus hunting is not regulated in Slovenia, it is however in Croatia, where a licence is required to pick them. Wild špargelj is considered much tastier than the usual white cultured one, and also much thinner, rare, and more difficult to spot, and likes to grow around bushes with thorns, all of which makes it quite pricy in case you give up looking for them on your own and head to the market place instead. For two bunches (in the picture) we paid about 10 EUR.
They are traditionally cut or broken into pieces, stir fried and mixed in with scrambled eggs. If they are young and fresh, they will snap if bent. Do not sautée the lower parts if they are already hardened, save them for a soup or use them for compost.
Green asparagus is rich in various vitamins and minerals, but is especially valued for its high content of folic acid, which is especially beneficial to pregnant women and nursing mothers.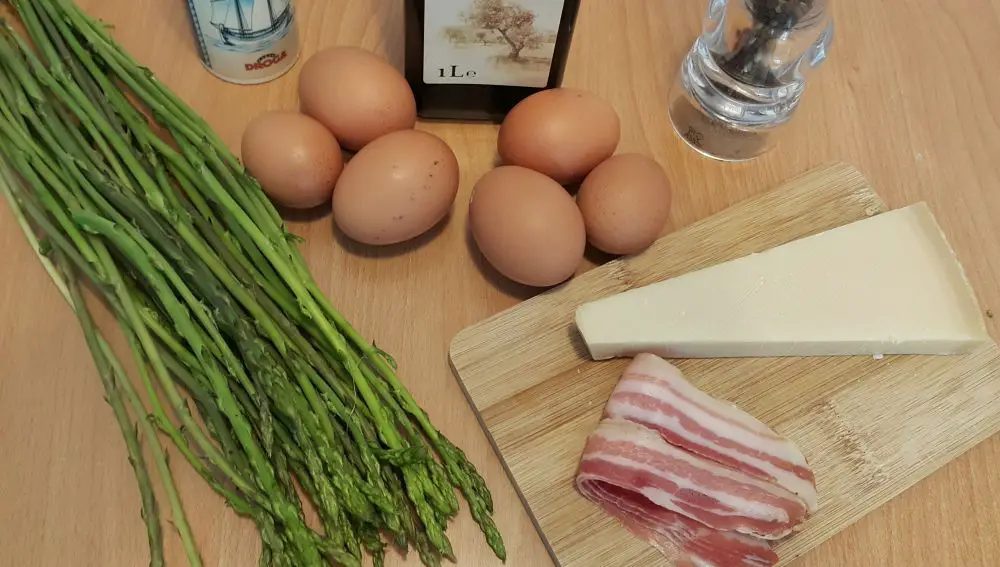 Ingredients (for two people)
1 tbsp olive oil
3 slices of pancetta (or prosciutto - pršut)
½ kg (at least) green wild asparagus
4 eggs
salt
pepper
parmesan
The procedure is very simple. Put a pan on a stove, add some oil and cut the pancetta.
Break or cut šparglji into 3-5 cm pieces and add them to the pancetta in the pan.
Stir fry for a couple of minutes, then add some water and salt and stir fry a little longer, depending how soft you want your asparagus to be. We like them slightly al dente.
Scramble 3 or 4 eggs and pour them into the pan.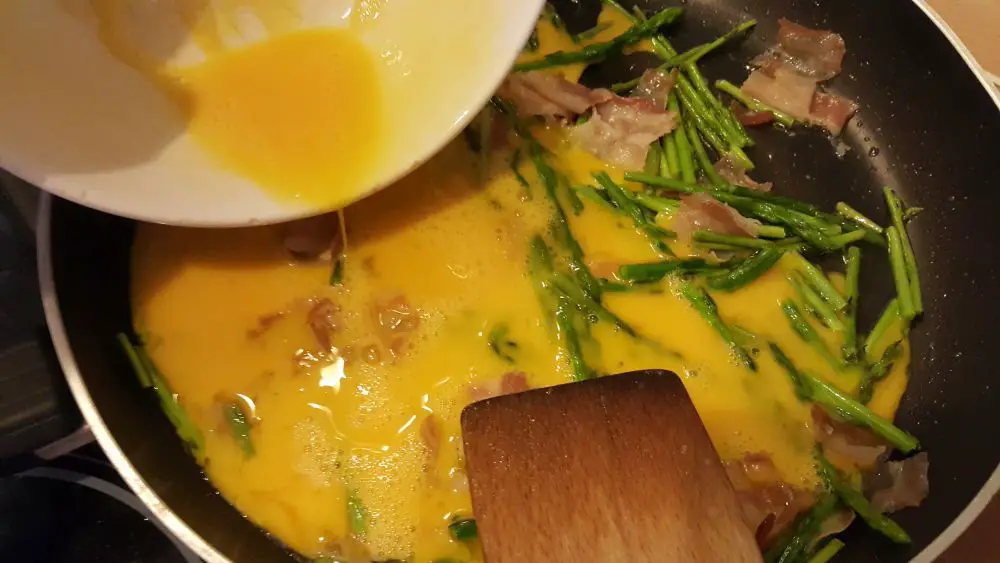 Keep stirring until the eggs are done.
Serve your wild šparglji with polenta and Teran (a heavy red wine) like a real Karst person.
Dober tek!